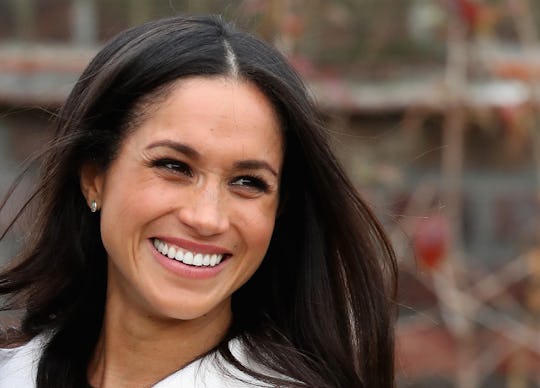 Chris Jackson/Getty Images Entertainment/Getty Images
Meghan Markle's Feminist Quotes Are So Badass, But Will They Have To End?
If you're not an Anglophile or a Suits fan, you might be missing out on one of the fiercest advocates for women in our time. Meghan Markle's feminist quotes show that she's a force to be reckoned with, at least for the time being. Markle has already shut down her female empowerment lifestyle blog, The Tig, and she'll be exiting her role on the USA drama Suits before marrying Prince Harry and moving to England. It's unclear how much ore of her former life she'll have to leave behind, but for the sake of women worldwide, let's hope she stays as loud and proud as she is now, with a much bigger platform.
Markle is a U.N. women's ambassador, and while British royals are encouraged to participate in charity and advocate for important causes, they're not allowed to be openly political. It seems crazy, since they're basically the heads of the government, but that role depends on support from Parliament, according to CNN, regardless of party. While Queen Elizabeth shares weekly meetings with the prime minister, the public will never hear about what she said in them. The rules are slightly relaxed for other family members — Price Charles is a champion of the environment, for example — but you won't see him talking about Trump anytime soon.
It's a real shame, because Markle is the feminist we need, and silencing her just so she can be a princess... I mean, that's the plot of The Little Mermaid. But the internet will always remember the good times, and who knows, maybe she'll buck the system and stay noisy. Maybe she'll convince Harry to abdicate. Anything's possible. Here are some gems I hope to hear repeated:
"You don't have to play dress up to be a feminist."
During Markle's keynote address at a Create & Cultivate event, an audience member asked her about balancing feminism and femininity. "They are not mutually exclusive," she said. "You can be a woman who wants to look good and still stand up for the equality of women." There's no uniform for feminism; "You are a feminist exactly the way you are."
"If my name is going to be on something, I'm going to have my say."
Speaking with the Toronto Star, Markle recalled how female characters were portrayed on TV when she was growing up: "I saw how the women were objectified, and I knew I didn't want to be looked at like that." She's also not interested in your opinions on her body, or anyone else's: "I take very seriously being a role model for young women," she says, and she "invites those who engage in body shaming to unfollow me."
"I am proud to be a woman and a feminist."
That's how Markle opened her speech at the United Nations' International Women's Day conference in 2015. And she's tired of women not getting a fair shake: "Women make up more than half of the world's population and potential. So it is neither just nor practical for their voices, for our voices, to go unheard at the highest levels of decision making." Her aim is to teach little girls the value of their voices early on.
"Even if it feels like it's small, it really can make an impact."
She continued to share her message of empowerment at a workshop sponsored by the Dove Self-Esteem Project, according to the Toronto Star, saying, "It's really important that young women be reminded that their involvement matters and that their voice is heard."
"My little freckled face became red with anger."
In an essay for Elle UK, Markle wrote about how her class witnessed a dish soap commercial with the tagline, "Women all over America are fighting greasy pots and pans" when she was 11. "The boys yelled out, 'Yeah, that's where women belong. In the kitchen.'" So what did little Meghan do? Went home and wrote letters to Gloria Allred, then-First Lady Hillary Clinton, and Nick News host Linda Ellerbee. Soon after, the line was changed to "People all over America." Get it, girl!
Let's hope this isn't the last we hear from Markle about such things. In that same essay, she wrote that as a famous person, it was her responsibility "to focus less on glass slippers and more on pushing through glass ceilings." She got the slipper, but there's no reason to abandon that ceiling-smashing now.
Check out Romper's new video series, Romper's Doula Diaries:
Watch full episodes of Romper's Doula Diaries on Facebook Watch.