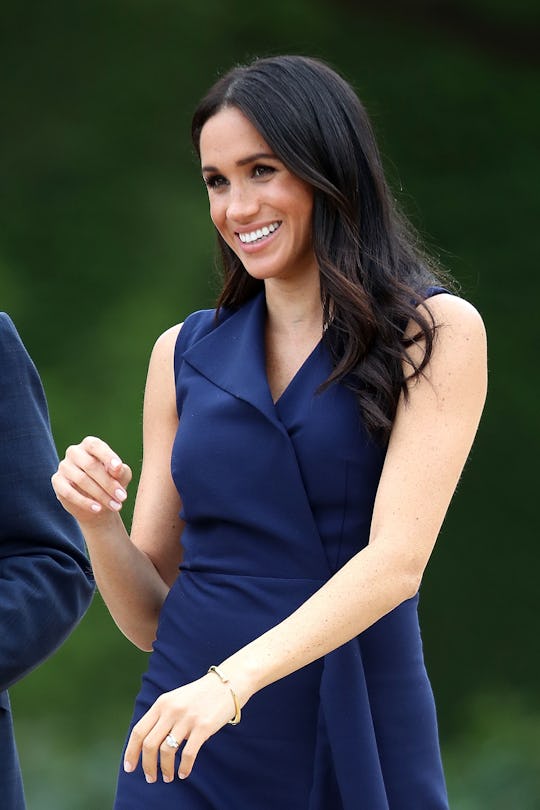 Chris Jackson/Getty Images Entertainment/Getty Images
Meghan Markle's First Job At 14 Proves She'll Be Such A Down-To-Earth Mom
Since the Duke and Duchess of Sussex, Prince Harry and Meghan Markle, confirmed earlier this week that they are expecting their first child together, everyone has been looking to them to see how they will be as parents. There are a lot of signs that point to both of them being loving, kind hearted, and team players. But Meghan Markle's first job at 14 also proves that she'll be an understanding, down-to-earth mom to her baby boy or girl.
During an official royal appearance at Macarthur Girls High School in Australia on Friday, Markle talked to a group of Australian teenagers about their part time jobs, according to E! News. This was a subject that Markle could contribute to — since she herself had a part time job when she was 14 years old.
Markle told the teens that her first job was incredibly humbling — it consisted of her "taking out trash" according to People, which is a far cry from her life as a Duchess. And no matter what her duties entailed (in addition to taking out the trash), it was a job that made Markle who she is today, according to People.
"It gives you a good work ethic, right?" Markle reportedly told the teenagers, according to E! News.
But Markle didn't just take out the trash at her first job. Markle stated during a Twitter question and answer session in 2014 that her first job was working at a frozen yogurt store called Humphrey Yogart in her hometown of Los Angeles, California, according to The Kitchn.
It was at this job where she earned $4 an hour, served yogurt, and took out the trash. Even Markle's boss at the time, Paula Sheftel, would agree that the job was super humbling. "She earned minimum wage and was super popular with customers," Sheftel told Mirror last year, according to The Kitchn. "She had to prove that she had an outgoing personality and would work well with staff."
Of course, Markle didn't work for minimum wage for long. Markle was a struggling actress in Hollywood who worked multiple jobs (even as a calligrapher) before landing her big break on the show, Suits, according to TIME. And now, as the Duchess of Sussex, Markle spends her days devoted to charity work and making official royal appearances with her husband, according to Harper's Bazaar.
Although she might live a glamorous life now, Markle knows what it's like to work for minimum wage as a teenager — it's not pretty and involves doing menial (sometimes gross) tasks — but it teaches work ethic. Because of this, she'll know what her kid is going through when they grow up and get to that age. At the end of the day, she'll be able to relate to her teenager, which pretty much guarantees that she will be a down to earth mom.
During this same appearance, Markle spoke about her own experiences in high school, according to Daily Telegraph reporter, Hannah Furness. Markle told the teenagers that attending at an all girls school in Los Angeles also shaped her into who she is today. Markle reportedly said, according to Furness' tweets:
I went to an all girls school which was incredibly diverse as well. I think being around such empowered young women, it becomes something that you all just grasp onto to understand your world. It's made you confident, well-spoken.
Markle attended Immaculate Heart High School and was known as a "curious and deeply caring student" who was "mature beyond her years," according to CNN. Based on what Markle said during this appearance, it would make sense that she would go on to be an advocate for young women after attending an all girls school — and her comments to these high school students definitely highlights that.
Royal watchers are already aware that Markle will be a fantastic mom, but her comments during that royal appearance on Friday served as a reminder as to why she'll be amazing in her new role this spring.