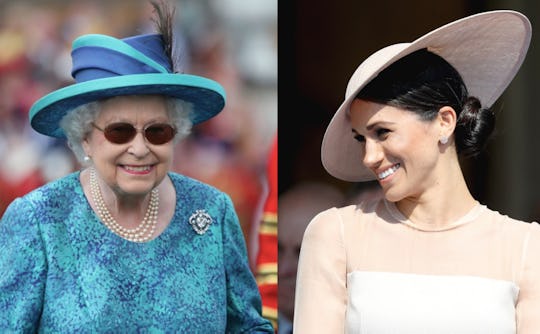 WPA Pool/Getty Images Entertainment/Getty Images/ Chris Jackson/Getty Images Entertainment/Getty Images
So, It Sounds Like Meghan Markle Is Having A Royal Sleepover With The Queen. On A Train.
The royal wedding has already come and gone and the Duke and Duchess of Sussex are settling into life as newlyweds. But they'll be on their own for a few days soon when Meghan Markle and the queen have a sleepover on their first royal outing together. And if you're wondering, it sounds like it's what all your dreams are made of — plus trains.
On the heels of the news that Markle and Queen Elizabeth II are soon to embark on their first outing together, People reported that this outing will also involve an extended trip on the royal train (yes, that is a thing that exists), and the two will stay the night on board.
Specifically, the queen and Markle will "depart on June 14 for Cheshire, which is approximately 165 miles northwest of London," as People reported, and it's expected that the two will spend the night on the luxury train, which features a formal dining room, and where meals on board are "prepared in the same quality as those made at the royal residences," according to People.
Though this hasn't been confirmed by the royal family just yet, according to Vanity Fair, the train will be leaving London on Wednesday night and arriving in Chester Thursday morning.
And seriously, this train sounds amazing. According to the Daily Mail, the royal train features private quarters for the queen and they're pretty snazzy:
Her Majesty's personal saloon is 75ft long and fitted with secondary air suspension giving passengers an exceptionally smooth and comfortable ride. It has a bedroom, decorated in light pastel shades, with a 3ft-wide single bed in one corner (there are no double beds on the Royal Train) made up with cotton sheets and woollen blankets.
As expected, Queen Elizabeth will be staying in her own area, but it's still a little unclear where Markle will stay on their trip. But logistics aside, the very fact that Markle was even reportedly invited to go with the queen is a big deal.
As odd as it may seem, the royal train is kind of a big deal in and of itself. As Vanity Fair reported, it's previously only been "available to the Queen, Prince Philip, Prince Charles, and Camilla." The publication also noted that Prince William and Kate Middleton, as well as Markle's husband Prince Harry, "have never been on it."
Just by riding with the queen on the train, Markle is continuing to make history in the world of the royal family. And should reports about their upcoming outing be believed, then it certainly seems like the queen is really taking a liking to the Duchess of Sussex.
In fact, Markle's upcoming June 14 outing with the queen is a sure sign that the two are getting along. Royal consultant for The Crown on Netflix, Robert Lacey, even told People that it "is a really positive sign of favor, encouragement and endorsement by the queen."
Now, it's pretty unlikely that the queen and Markle will be wearing matching pajamas, eating cookie dough, and ordering takeout while making prank phone calls like many of us did back in the day. In reality, if the reports of Markle attending the event with the queen via train are true, it will likely be a very classy affair. And as Lacey went on to tell People, it was reportedly all the queen's idea. "It's not something Meghan or Harry would have asked for. It's an exciting move," he told the publication.
It's nice to hear that Markle is fitting in just fine with her in-laws and it sure sounds like there a lots of bonding moments to come. Train cars and all.