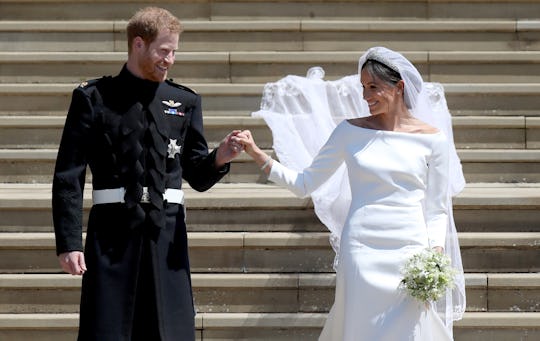 WPA Pool/Getty Images Entertainment/Getty Images
Meghan Markle's Former 'Suits' Costars' Favorite Royal Wedding Moments May Be Some Of Yours Too
Actors talk a lot about how their costars become family and it seems that the actors of Suits are no exception. Fans of the show will be excited to know Sarah Rafferty and Gabriel Macht both scored invites to the royal wedding on May 19. Now that all the festivities are done, Rafferty and Macht have talked a bit about their experiences at the historic event, and Meghan Markle's former Suits costars favorite royal wedding moments are probably some of your favorites from the big day, too.
Before relocating to the United Kingdom, Markle lived in Toronto, Ontario where she worked as an actress on Suits. From Seasons 1 through 7, Markle appeared on the show as series regular Rachel Zane. Both Macht and Rafferty also serve as main characters on the show, playing lead character Harvey Specter and Donna Paulsen, Harvey's former legal secretary, respectively.
After watching news of celebrity invites spill in, it was good to see Markle invited her former costars to witness her big day. In addition to Macht and Rafferty, Patrick J. Adams, who played Markle's onscreen love interest Mike Ross, attended the royal wedding at Windsor Castle, according to Us Weekly. Now that they've had some time to process it all, Macht and Rafferty spoke with Entertainment Tonight to highlight some of their favorite wedding moments.
After her father was unable to walk Markle down the aisle at her wedding, she made the decision to partially walk down alone before meeting Prince Charles. It was something that many people admired as an unprecedented step for a royal bride. Although it wasn't the first time someone other than the bride's father had accompanied her down the aisle, as noted by Town & Country with the case of Princess Margaret, it was the first time a bride made a significant portion of that walk alone.
It seems that moment touched Markle's former costar, Rafferty, as well. "Seeing [Meghan] walk in on her own, in that moment before she met up with Prince Charles to walk the rest of the way, that was amazing," she told Entertainment Tonight.
Given that Markle's royal bio focuses on highlighting her feminism and activism, it's good to see that other people in her life take note of it as well. Overall, Rafferty told Entertainment Tonight that she felt proud to watch her friend say "I do." She said, according to Entertainment Tonight, "It was a wonderful moment to get to see [Meghan] on that day and in that moment. It was special."
Macht's favorite moment was another big wedding highlight: Elton John's performance.
Elton John was a close friend of Prince Harry's mother, Princess Diana, as reported by Entertainment Weekly. When she died, John performed "Candle in the Wind" at her 1997 funeral. The song was originally written in 1973 as a tribute to Marilyn Monroe, but John reworked the lyrics with frequent collaborator Bernie Taupin, as noted by Entertainment Weekly. Together, they changed "Goodbye Norma Jean" to "Goodbye England's Rose" and included mentions of her charitable work. Most notably, the chorus changed to say, "Your footsteps will always fall here, along England's greenest hills."
Knowing that John was a close friend and performed at Princess Diana's circle, there is something beautiful about the musician performing at her son's wedding. It was a performance that resonated with Macht, as he told Entertainment Tonight about John's "I'm Still Standing" performance: "That was an incredible moment."
And when it comes to how most people feel about the royal wedding, Macht summed it up perfectly when he told Entertainment Tonight, "I think, overall, just to be a part of such an uplifting story … A story of inclusion, love."
Meghan Markle spent seven years as a series regular on suits. When she left, her character was written out of the show with a wedding, seemingly as a nod to real life. It's unlikely Markle will pursue acting anytime soon, so it's good to see her staying close to former colleagues, even while so far away. And who knows, maybe we'll see the former costars pay each other a visit again sometime soon.