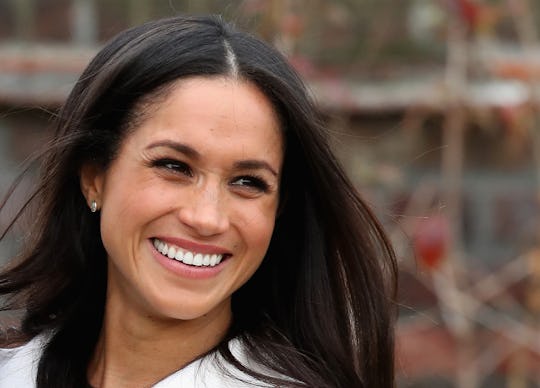 Chris Jackson/Getty Images Entertainment/Getty Images
Meghan Markle's Instagram Proves She'll Be A Down-To-Earth Royal
Even though Meghan Markle is currently best known for being engaged to Prince Harry, she is an individual woman with her own career, beliefs, and totally unique (and awesome) personality. And Meghan Markle's Instagram proves that she has always been caring, encouraging, and upbeat. And, based on the fact that Markle hasn't posted anything since April, her Instagram page also seems to provide confirmation that the duchess-to-be likely won't be posting too much in the future, either.
Social media is obviously a relatively new concept in general, but there hasn't really been any precedent for how members of the royal family should present themselves online. For the ever-popular Duke and Duchess of Cambridge, William and Kate, their main channel for social media is run by Kensington Palace on Instagram. The account posts photos of Prince William and Kate, as well as of Prince Harry.
Likely, when Prince Harry weds Markle, the couple will receive their own Instagram account, though it's unclear what it will be. After the couple's engagement announcement, it was confirmed that they would live together in the Nottingham Cottage at Kensington Palace, so their social media updates could actually fall under the same account where Prince Harry's updates are currently posted.
Nevertheless, Markle's Instagram remains up and accessible, which means that it's totally possible to delve into all of her posts and what they say about the future British citizen.
She's Extremely Passionate About Helping Others
Many of Markle's posts center in on her philanthropic efforts, which isn't that surprising for her fans. Markle has been outspoken about the causes she believes in and has been fairly involved in a number of charities for quite some time. According to People, Markle has "worked as United Nations ambassador, visited Rwanda with World Vision Canada, visited India on a trip to support women and girls living in slum communities," amongst other efforts.
And in fact, Markle's bio for her Instagram page shows just how passionate she is. Markle has linked to an article she wrote for TIME, in March, about the stigma surrounding periods in young girls across the world. "One hundred and thirteen million adolescent girls between the ages of 12-14 in India alone are at risk of dropping out of school because of the stigma surrounding menstrual health," she wrote, describing her trip to India to learn more about the issue.
Fortunately, Markle will be able to spend even more time working with charities when she marries Prince Harry. As the 36-year-old's interview with the BBC revealed, she is leaving her acting career to become a full-time royal.
"I think what's been really exciting ― as we talk about this as the transition out of my career ― is that the causes that have been very important to me, I can focus even more energy on," she told the BBC. Based on Markle's Instagram, it appears that she is perfectly suited for a life as a philanthropist.
Girl Can Eat
Something Markle tends to post a lot of are photos of food, which just makes her even more relatable. Seriously, food is such a common denominator amongst people from all over, and Markle's Instagram seems to suggest that eating is another one of her passions.
Again, another sign that she is suited for life as a royal.
She Enjoys Inspiring Others
Another frequent post Markle makes on her Instagram are cute, inspiring quotes. While obviously nothing can be assumed about what Markle thinks, her posts definitely point to her as being a sunny and cheerful person, who loves to uplift others.
She Values Girl Time
As previously stated, Markle hasn't posted to her Instagram account since April, but before she stepped back from the platform, she frequently posted photos of her and her friends. A few posts featured fellow actress, Priyanka Chopra, but Markle's friend group seems pretty large and wide-reaching.
She Enjoys Discussing Politics
Several of Markle's photos portray a young woman who is actively engaged in world politics and the global schema of social issues. Markle attended the One Young World summit in Ottawa, Canada last year and spoke with Canadian Prime Minister Justin Trudeau.
Markle also appeared on television with Larry King to discuss women's rights in 2015, and she told him how it is. "No matter what you look like, you should be taken seriously," she said, according to CBS News. "And for me also, I think it's really great to be a feminist and be feminine."
Oh, & She's A Dog Person
Unfortunately, Markle's two dogs, Bogart and Guy, will have to undergo a pretty litigious process in order to make the move to the United Kingdom after the wedding. But clearly, it will be worth it for Markle, who has posted quite a few photos of her pups on Instagram over the years.
Hopefully, Markle's Instagram will remain active and accessible. Because even though she's about to become a member of the royal family, she's still an American sweetheart at her core.
Check out Romper's new video series, Romper's Doula Diaries:
Watch full episodes of Romper's Doula Diaries on Facebook Watch.