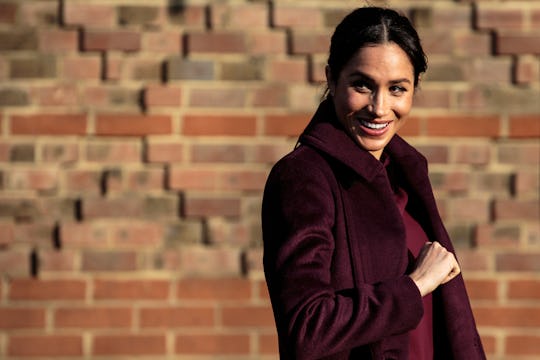 Jack Taylor/Getty Images Entertainment/Getty Images
Meghan Markle's Latest Maternity Look Is Holiday-Perfect & On Sale Now
While you may not be able to keep up with the full scope of Her Royal Highness, the Duchess of Sussex's designer closet, which features one fabulous wardrobe change after another, it's always a plus when you discover an item fit for a princess that a regular person could also buy. And Meghan Markle's latest maternity outfit is perfect for the holidays and on sale RN, to boot.
On Nov. 21, Markle paid a visit to the Al Manaar Cultural Heritage Center, the West London headquarters for the Hubb Community Kitchen, a communal food prep and dining location that came together a summer ago following the tragic Grenfall Tower fire nearby, in which 70 people were killed and thousands of locals lost their homes, according to USA Today.
But it's what the princess was wearing that really caught the eye: Club Monaco's "Sallyet Dress," an adorable burgundy number featuring straight — but not overly fitted — lines and a soft, velvet collar. The kind of dress you could wear as an early maternity style, a non-maternity winter holiday classic or really just for any occasion that's a little luxe and dressy.
Best of all, the dress is currently on sale, with a 25 percent off Black Friday deal off the original $228 price tag, taking the dress down to $171. Totally worth it if you have any shindigs to attend this year.
Markle, who paired the dress with the Daylina coat also from the Club Monaco label to ward off London's infamous November chill, began began visiting the kitchen this past January, according to Harper's Bazaar, deciding thereafter that her first solo royal philanthropic effort would be to raise enough money to turn the kitchen in a full-time, permanent fixture of the community.
To that end, she helped spearhead a cookbook based on members' recipes, Together: Our Community Cookbook, available on Amazon, that has so far made more than $260,000 in UK sales alone, the magazine noted, enough to the renovate the kitchen and dining areas. Harper's added that Markle seemed to know the women individually, and has paid many, private visits without the press attending.
I've noticed that Markle has joined sister-in-law Kate Middleton in mastering the high-low fashion mix — pairing chain-store picks with high-end designer or one-of-a-kind couture items for an adorable effect. The two women both have a great eye, and many fashion blogs have sprung up to trace exactly how they do it.
Markle has previously worn Club Monaco, including in August when her appearance in the brand's color-blocked "Shoanah" dress on her birthday caused the frock to temporarily sell out, according to Refinery 29.
At the event today, Markle paired her Club Monaco dress with boots from the higher-end Givenchy, according to Glamour. who added that the royal has also worn such "regular" brands as J. Crew and Rothy's.
It's wonderful to see one of the newer members of the royal family doing good and looking great while she's at it. The positive replies on Twitter to the princess' work show that the UK (and the world) is really responding to Meghan and that she's hit the right note by picking a project that highlighted the UK's cultural diversity.
Great start, Meghan, and adorable dress!
Season 2 of Doula Diaries shares the stories of fearless doulas helping their clients take control of their births and make tough choices that feel right to them. Watch the first episode of the new season Monday, November 26th.