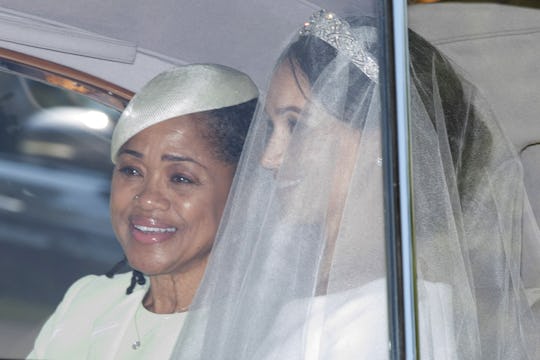 WPA Pool/Getty Images Entertainment/Getty Images
This Moment Of Meghan Markle's Mom At The Royal Wedding Has Won Twitter's Heart
The newest British royal has had a bit of a tough road to the aisle. Media attention brought out the worst in some of Meghan Markle's family members, which, of course, triggered an outpouring of support for the duchess-to-be from fans. It's also why Meghan Markle's mom crying at the royal wedding has won the hearts of Twitter.
We know all the jokes about the British stiff upper lip and how the British royals are not always the best at emoting publicly. In fact, Princess Diana's authenticity and very public displays of vulnerability were part of what earned her the title of "the modern Princess." It's said that William and Harry both carry their mom's sense of emotionality, although they usually keep it pretty light for the cameras. As for Prince Charles and Queen Elizabeth? Forget it. They're both completely stone-faced, even at moving, emotional occasions like the weddings of their grand-/children — owing in large part to palace attitudes at the time they themselves were brought up. That's another reason why the sight of Markle's mom, Doria Ragland, openly weeping at the wedding ceremony was so powerful. Of course, she cried in the most dignified way possible, shedding a few silent tears while mostly managing to keep a misty-eyed gaze fixed upon her daughter. But it was clear that she was overwhelmed with emotion, pride, and love.
Before Ragland even arrived at the chapel, she was photographed in a car with Meghan already looking weepy. She walked into St George's Chapel a few minutes before her daughter, where Ragland was greeted by the Dean of Windsor, overseer of the proceedings, and shown to her seat. According to royal correspondent Emily Nash, Harry, who was already seated at the altar inside, was spotted trying to catch Ragland's eye and shoot her a smile. (I'm not melting, you're melting!) In fact, once the ceremony began, Harry definitely shed a tear or two himself, which he subtly wiped away as he held Meghan's hand. Needless to say, Twitter ate up Ragland's emotional display. The consensus was basically that the sight of Markle's mom crying made everyone else cry, too.
People truly seemed to feel Ragland's love for her daughter radiating out of her in her emotional moments. It was totally relatable and extremely sweet to watch a mom so overwhelmed with joy for her child. Also, as a social worker, yoga instructor, and single mom, Ragland is a triple threat example of salt-of-the-earth goodness in humanity. It's no wonder she's a hit with Twitter. She's total mom goals, and I bet she gets this choked up even at weddings that aren't her own daughters, just because she's a great person. Michelle Obama/Doria Ragland 2020 is basically what I'm saying.
Of course, it was probably an overwhelming day for Ragland as a single mom, too. Markle's other family members have been quick to exploit their personal relationships with the new princess for personal gain, and her own father dropped out of walking her down the aisle the week before her wedding after a staged paparazzi photo controversy. (For what it's worth, Prince Charles heartwarmingly stepped in to take over dad duties as father-in-law by greeting her halfway down the aisle to give her away at the altar.)
Instead of the rest of her biological family, Markle was supported by her close-knit group of friends, including Serena Williams and her new husband, Oprah Winfrey, and stylist Jessica Mulroney (whose children were also in the wedding party). It was a powerful nod to the importance of chosen family, but it's also clear that Meghan's mom wouldn't have missed this day for anything.