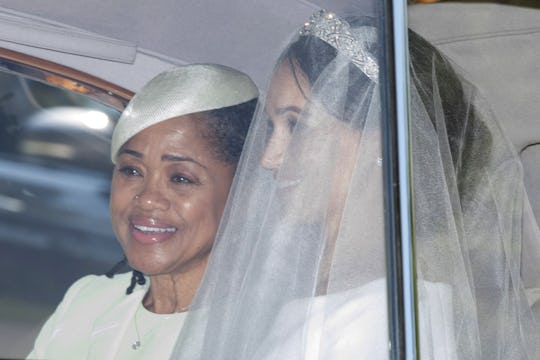 WPA Pool/Getty Images Entertainment/Getty Images
Meghan Markle's Mom's Favorite Royal Wedding Moment Is Most Definitely On Your Own Bucket List
During the royal wedding, people couldn't help but turn their eyes to Meghan Markle's mother, Doria Ragland. People were ecstatic not only to see Markle have a member of her family present at the wedding, but because frankly, it looked like Ragland was totally enjoying herself. Now, as more details about the day are coming out, it looks like Meghan Markle's mom's favorite royal wedding moment has been revealed and it's probably — no, definitely — on your own bucket list.
Leading up to any wedding, there's bound to be some sort of family drama. Certain people can't, or won't, sit together; aunties who haven't spoken in years are now expected to sit in the same room. It's totally reasonable for there to be little tiffs. But, for Markle, the drama surrounding her family reached entirely new levels.
When news broke that Markle's father couldn't attend the wedding or walk his daughter down the aisle due to a recent surgery, it was definitely shocking. As noted by People, Kensington Palace went so far as to release an official statement that read, "This is a deeply personal moment for Ms. Markle in the days before her wedding. She and Prince Harry ask again for understanding and respect to be extended to Mr. Markle in this difficult situation."
But one family member that never had any drama surrounding her? Markle's mother. A few days before the wedding, Doria Ragland was seen on her way to London and once she arrived, she was all smiles with her daughter.
And, according to a source who spoke to Us Weekly, while Ragland of course loved watching the couple exchange their vows, her biggest highlight was meeting the queen, because obviously, right?
For anyone, meeting the queen would probably be a stressful event. There's a lot of decorum and unspoken rules that are involved, which most of the regular public don't know. Add to that Ragland's being American and no one would have blamed her for being nervous. But, according to Us Weekly's source, "Meghan and Harry really did a marvelous job of preparing her [with] what to expect."
In fact, according to Us Weekly, Prince Harry told his new mother-in-law "numerous stories about the queen as a grandmother", which definitely helped to humanize the queen and make her less of a foreboding figure.
Before the wedding, Ragland met Queen Elizabeth for tea with Markle at Windsor Castle, as reported by Fox News. According to Fox News, she was eased into the process of meeting the queen by having a formal meet-and-greet with other members of the royal family, including Prince Charles, Duchess Camilla, Prince William, and Duchess Kate.
Throughout the actual ceremony, Ragland's emotion was clear on her face as she sat alone in the chapel. While Prince Harry and Markle exchange vows, Ragland can be seen behind them trying to hold back her own tears. It was an intimate, touching display to witness that might have left people wondering: is it possible that Ragland will eventually make the move to the United Kingdom as well?
Markle moved to the United Kingdom for her relationship with Prince Harry. And although Ragland isn't obligated to make the move, a source tells The Mirror that it's not entirely out of the question. According to the royal insider, according to The Mirror, Markle has an incredibly close bond with her mother, which is something that really shows. The insider added, according to The Mirror, "When she and Harry start a family, it'll be incredibly hard if her mum is 5,500 miles away".
So, who knows. Maybe Markle's mom will eventually join her across the pong, only time will tell. But, for now, we can at least look forward to seeing mother and daughter together on the visits that are sure to come.