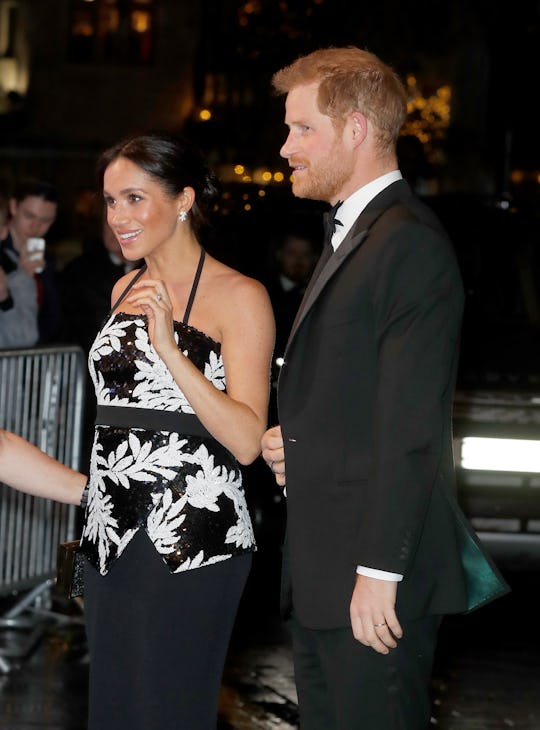 Chris Jackson/Getty Images Entertainment/Getty Images
Meghan Markle's Pregnancy Glow Is Real In New Photos From A Royal Outing
Ah, that ever-elusive pregnancy glow. A flawless complexion. A head of full and luscious hair. Maybe even a hint of rosy cheeks. Or not. Having gone through this whole carrying-a-baby-in-my-body business four times now, I can't even say for sure what the term "pregnancy glow" means — because I've never even come close to it. Instead, I'm plagued with acne, dark circles under my eyes from crappy sleep quality, alarmingly thinning eyebrows, and a perpetually puffy face. Because as it turns out, not all of us pregnant ladies are so lucky. With that said, though, Meghan Markle's pregnancy glow is real in these new photos from a royal outing.
As ET Online reported, Kensington Palace revealed that newlyweds Prince Harry and Meghan Markle — who tied the knot in May — were expecting their first child on Oct. 15. "Their Royal Highnesses The Duke and Duchess of Sussex are very pleased to announce that The Duchess of Sussex is expecting a baby in the Spring of 2019," the Twitter announcement read. Cue: Royal fans from across the globe let out a collective, "Squeee!" Since then, it seems everyone has been on royal bump watch. Honing in on the duchess' mid-section, gossip magazines and entertainment news sites have speculated on Markle's due date, critiqued her maternity style, and noted any tiny changes to her appearance.
According to People, the Duke and Duchess of Sussex made an appearance at the Royal Variety Performance at The London Palladium on Monday, Nov. 19. The annual event raises money for the Royal Variety Charity — which ultimately helps hundreds of UK entertainers who need assistance because of poor health, old age, or tough circumstances. This year, the show featured performances by Take That, George Ezra, Clean Bandit, the cast of Tina, The Tina Turner Musical, and Andrea and Matteo Bocelli, according to the publication.
Kensington Palace shared a series of five photos of Prince Harry and Markle from Monday's event — and the last shot even shows a pretty distinct bump going on! "A fantastic #RoyalVarietyPerformance!," the caption read. "The Duke and Duchess of Sussex were greeted before tonight's performance by Darcie-Rae Moyse, aged seven, who presented The Duchess with a bouquet of flowers, which included foliage from Brinsworth House garden, the care home supported by the Royal Variety Charity. After the performance, The Duke and Duchess met performers on stage, including @lostvoiceguy, @andreabocelliofficial, and @TakeThat. #Variety4Charity."
Plenty of Instagram users were quick to point out how stunning Markle looked at the event. One follower wrote, "I love this couple! They have a certain warmth that comes across in their photos...and Meghan's bump is so cute! She is absolutely radiant!😍😍."
Another Instagram user commented, "Wow, Meghan looks gorgeous! 🤗😍."
Yet another person chimed in with, "Wow she's glowing ❤️🙌 what a beautiful lady."
With plenty of words like "radiant" and "glowing" thrown around, I think it's safe to say Markle is one of those lucky few women who truly has a pregnancy glow.
For the record, the phenomenon is scientifically legit. "The glow is real!" Dr. Patricia Wexler, a NYC-based dermatologist, told InStyle. "The facial shine is based on biology. The blood volume in pregnancy increases by 50 percent, causing the cheeks to take on an attractive blush due to the dilated blood vessels just below the skin's surface." Wexler also added that this flow can also be explained by an increase in estrogen and progesterone, which causes more oil secretion — resulting in a "waxy sheen." (Who knew?) Whatever the actual biology is behind her glow, Meghan Markle looked simply gorgeous on Monday. And this also-pregnant-but-definitely-not-glowing mama is seriously jealous.