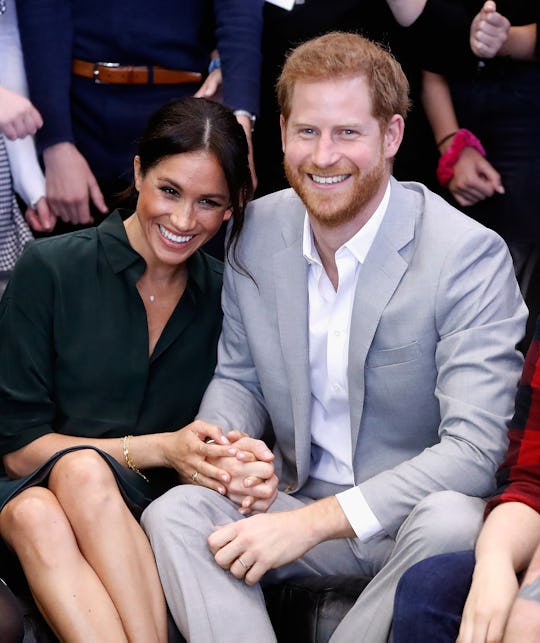 Chris Jackson/Getty Images Entertainment/Getty Images
Meghan Markle's Quotes About Kids Prove She's Going To Be An Amazing Mom
It was mere hours ago that the world was collectively shook by the news that Meghan Markle, the Duchess who is also known to be a master of messy buns and shift dresses, will be welcoming her first (undoubtedly perfect) child with her husband, Prince Harry. Though becoming royalty is likely not something anyone could anticipate, Meghan Markle's quotes about kids prove she's wanted them for a long time — and she's going to be an amazing mom when she has them.
Kensington Palace confirmed this morning that Duchess Meghan and Prince Harry are expecting their first child, however, as Cosmopolitan pointed out, people had been guessing that Meghan was pregnant for a while, sleuthing out everything from her choices of clothing to her hairstyles. (As for the latter point, some theorize that royal women change their hair right before a pregnancy reveal, initially to create a distraction from any changes to their physical appearances — Meghan did it a few days ago, and her sister-in-law, Kate Middleton, did it before every one of her birth announcements, Today reported.)
However, that's all besides the point. Now that the news is revealed, all the world can imagine is how perfect the newest royal is going to be. In honor of the exciting countdown to baby, here are some of the sweetest things Meghan has said about future motherhood.
"I Dream To Have A Family"
Back in 2016, Meghan told Lifestyle that as she had fulfilled her dream of becoming an actress, she was ready to place her attention on another lifelong ambition of hers: to become a mother.
However, she also mentioned that balancing the two would invariably be a challenge — one that she'd want to take on one day.
"I dreamt [of becoming] a successful working actress, which I can now very thankfully tick off the list. And I also dream to have a family... It's all about balance, and I have so much happiness in my career and am fortunate to travel the world and see so many amazing things — it will also be nice to be anchored to something grounded and in the same place. Raising a family will be a wonderful part of that."
She Wants To Read The Giving Tree To Her Kids
During a rapid-fire style interview back in 2015, Meghan was asked which book she "couldn't wait" to share with her own kids. She named a Shel Silverstein classic: The Giving Tree.
"We'll Start A Family In The Near Future"
During their first interview as an engaged couple with BBC, Meghan and Prince Harry were asked what their plans were for future kids.
Harry responded that the two were looking forward to starting a family in the "near future" which, ahem, they did. (Meghan didn't technically say this one, but she did nod in agreement.)
"I Can't Wait To Start A Family, But In Due Time"
In a 2015 interview with Best Health, Meghan said that becoming a mom was on her bucket list. When asked about what her long-term goals were, she explained:
We are confirmed to film two more seasons of Suits, so I'll be here [in Toronto] for at least a couple more years. And really the hiatus [between filming] is so brief that I just want to use that time to grow The Tig. I'm so grateful for how it's taken off. And I love doing comedy (In the winter of 2016, Markle filmed a romantic comedy in Vancouver). Other bucket-list items: I want to travel more and I can't wait to start a family, but in due time.
"I Plan To Give It To My Daughter One Day"
Brit & Co reported that when Markle learned Suits had been picked up for a third season, she splurged on an expensive watch that she'd one day give her daughter. She said:
When I found out Suits had been picked up for our third season — which, at the time, felt like such a milestone — I totally splurged and bought the two-tone version. I had it engraved on the back, 'To M.M. From M.M.' and I plan to give it to my daughter one day. That's what makes pieces special, the connection you have to them.
Now, with the official countdown beginning until Markle gives birth to her and Harry's first child, it's all the sweeter imagining that all their dreams are literally coming true.