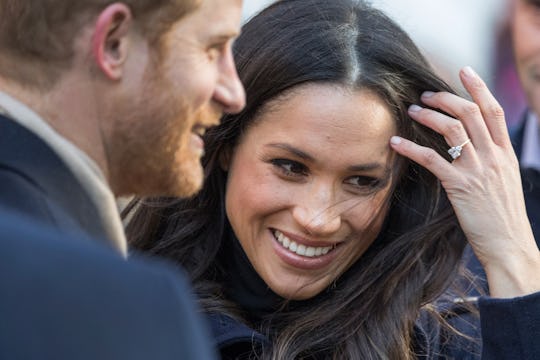 Christopher Furlong/Getty Images Entertainment/Getty Images
Meghan Markle's Quotes On Wanting Kids & Her Future With Prince Harry Are Inspiring
Everyone's new favorite royal-to-be has captured the hearts of people all around the world. And because excitement is at an all-time high, looking to these Meghan Markle quotes about wanting kids and how she envisions her future with Prince Harry are hard to resist. That's because they're essentially proof that the next generation of little royals will be so lucky to have the former Suits actress as a mother. Along with sharing her own desire to start a family of her own, she has also taken it upon herself to inspire the children of the world as well.
Markle, 36, and Prince Harry, 33, have been dating since July 2016, revealed their relationship in October 2016, and announced their engagement in late November of this year, according to People. Clarence House explained the engagement in an official statement:
His Royal Highness and Ms. Markle became engaged in London earlier this month. Prince Harry has informed Her Majesty The Queen and other close members of his family. Prince Harry has also sought and received the blessing of Ms. Markle's parents. The couple will live in Nottingham Cottage at Kensington Palace.
The couple is set to wed at St George's Chapel in Windsor on a date in May 2018, according to Elle UK. With all of the excitement surrounding the impending nuptials, the pair has also commented on whether they plan to have children. While babies aren't on the immediate agenda, Markle has made it clear that starting a family is definitely on her mind.
On How Children Fit Into Her Dreams
In a recent interview with lifestyle magazine Hello!, Markle talked about where she is in her life right now and what her priorities are. While children weren't an immediate goal, they are something that she looks forward to, telling the publication:
I also dream to have a family. It's all about balance, and I have so much happiness in my career and am fortunate to travel the world and see so many amazing things — it will also be nice to be anchored to something grounded and in the same place. Raising a family will be a wonderful part of that.
On Family
Editor's Note: The Instagram post has since been deleted.
While the couple spoke with the BBC for their first interview since getting engaged, Prince Harry gave royal family addicts everywhere hope when he said that he and Markle would start a family "in the near future." His bride-to-be didn't directly discuss having children, but she did talk about the family that she was marrying into — and, by extension, the family that she will share with her future children, telling the outlet:
His family has been so welcoming. I have [met several family members] on his mother's side it's been really important to me too. The family has been great and in the past year and a half, they've made me feel a part of, not just the institution, but of a part of the family.
On Life With Harry
Although the two are talking babies, they don't seem to be in a hurry. In an interview with Vanity Fair, Markle explained that the two are taking some time for themselves, as they should:
We're a couple. We're in love. I'm sure there will be a time when we will have to come forward and present ourselves and have stories to tell, but I hope what people will understand is that this is our time. This is for us. It's part of what makes it so special, that it's just ours. But we're happy. Personally, I love a great love story.
On The Importance Of Young Women
Editor's Note: The Instagram post has since been deleted.
Don't get me wrong, feminism is for everyone. But there would be a certain beauty in seeing Markle raise a little girl of her own. She has spoken numerous times about the power and importance of girls. For instance, she told The Toronto Star, "It's really important that young women be reminded that their involvement matters and that their voice is heard."
Even if she doesn't end up with a little girl of her own, she can pass on this wisdom to a boy as well and keep the empowerment cycle going.
On Being A Role Model
Editor's Note: The Instagram post has since been deleted.
Markle has opened up numerous times about empowering women and young girls. In another interview with The Toronto Star, she said, "I take very seriously being a role model for young women." Imagine if she funneled even just a portion of this role model energy into her own children. What a lucky kid!
Markle and Prince Harry are less than a month into their engagement, so it is completely understandable that they haven't spoken too often about their plans for growing their family. But even just the few comments that they two have made are enough to spread some baby fever.