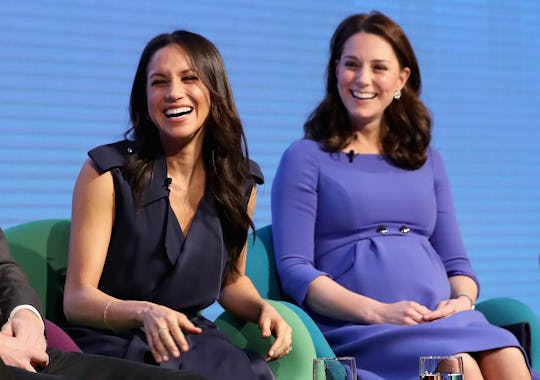 Chris Jackson/Getty Images Entertainment/Getty Images
It Sure Seems Like Sisters-In-Law Meghan Markle & Kate Middleton Have A Solid Relationship
While Meghan Markle's marriage with Prince Harry sounds super ideal (she married a prince, after all), there are a lot of other things that come with marrying into a family. Whether it's adjusting to life with in-laws or adapting to their family traditions, these things take time. There's no doubt that Prince Harry is super close with his older brother, Prince William, as evidenced by numerous photos of the pair and the fact that Prince William was his little brother's best man. And when it comes to Prince William's wife, well from the sounds of it, it seems like Markle's relationship with Kate Middleton is just as pleasant as you'd imagine.
While Middleton looked like she was beaming with happiness at Markle's wedding on May 19, surely some people might have wondered if those smiles were just for show. Rest assured, they were genuine — Markle and Middleton get along pretty well, according to In Style, and do enjoy each other's company. "I think they are certainly friendly and they are spending more time with each other," royal expert Katie Nicholl told In Style. "You know, they're neighbors in Kensington Palace and I know that Meghan enjoys going over to see Kate and the children, and she does enjoy that."
From the time that Markle and Middleton first met, they reportedly hit it off very well. In their first televised interview as a couple after their engagement in November, Prince Harry revealed that introducing Markle to his brother and Middleton was easy.
Prince Harry said, according to TIME:
It was exciting. I mean, I've — you know, been seeing her for a period of time when I literally didn't tell anyone at all. And then William was longing to meet her and so was Catherine, so you know, being our neighbors, we managed to get that in a couple of — well, quite a few times now and Catherine has been absolutely amazing...
Markle added in the same interview that Middleton had been "wonderful" to her — and since then, their relationship has only blossomed. In March, sources told People that Middleton had been helping Markle transition from an actress to a member of the royal family. The fact that they are neighbors in Kensington Palace, according to Architectural Digest, certainly helps their friendship and closeness, too. And when they began making royal appearances together, according to Harper's Bazaar, you could tell that they were getting close. When it came time to Markle's wedding, she reportedly gifted Middleton and six of her best friends a solid gold disc bracelet as a token of her appreciation for them, according to People. This pretty much confirmed the fact that Markle and Middleton are close.
This shouldn't really come as a surprise to anyone, especially since Prince Harry and Middleton are very close. Prince Harry has reportedly called Middleton the "big sister he never had," according to Harper's Bazaar, and would often pop into her home in Kensington Palace where she would reportedly cook him meals. If Prince Harry and Middleton are this close, people can assume that it was easy for Middleton and Markle to start a relationship.
In spite of their friendship and having been married into the royal family, Markle still has to curtsy to Middleton when she sees her, according to The Mirror, because Middleton outranks her in royal standing. And while some have reported that they're not best friends (just regular friends), according to ELLE, it's important that people remember that Markle and Middleton are at two different places in their lives. Middleton is a mom of three with different priorities than Markle, and no one has ever said that in-laws have to be besties.
Markle and Middleton's relationship is super unique and you can tell that they are definitely close. But if you lived next to your in-laws and worked together, you'd want to be friends with them, too.