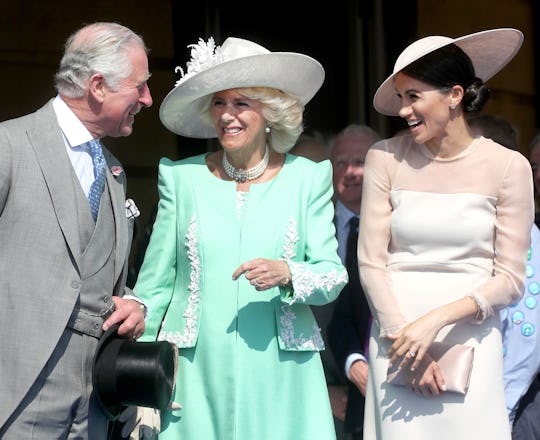 Chris Jackson/Getty Images Entertainment/Getty Images
Sounds Like Meghan Markle's Relationship With Her Father-In-Law Is Rock Solid
Meghan Markle continues to fascinate the world as the newest member of the royal family. It's clear that she and her husband Prince Harry couldn't be closer and more in love. But what's her relationship with her new in-laws like? Well, when it comes to her father-in-law, it seems that Markle's relationship with Prince Charles is actually very strong. In fact, a documentary about the Prince of Wales and his evolution in royalty has revealed just that.
The documentary — titled We Are Most Amused and Amazed and made for Britain's ITV channel — was produced by filmmaker Nick Bullen, who's been documenting the the British royal family for almost 20 years, but collaborated specifically with the Prince of Wales for eight years, according to The Times. And when it comes to the royal's relationship with his daughter-in-law, Bullen told Fox News that Prince Charles not only likes and admires Markle, but understands that she has an important place in the ever-modernizing Windsor clan.
"From what I know, he is a big fan of Meghan Markle," Bullen told Fox News. "He knows those boys have had a rough life with his marriage falling apart in front of the whole world. Then they lost their mother at a very young age… And Meghan is making Harry very happy. And that makes the Prince of Wales happy."
Prince Charles' embrace of Markle (who the Queen named the Duchess of Sussex on her wedding day, according to Harper's Bazaar) included his much-admired move of escorting her down the aisle to wed his son after her own father canceled at the last minute, as Australian news site news.com.au reported.
In addition to walking Markle down the aisle, Prince Charles also chivalrously escorted Markle's mom, Doria Ragland, out of the church after the Spring 2018 ceremony at storybook Windsor Castle ceremony, according to the Daily Mail.
With the 37-year-old duchess now expecting her first child with Prince Harry, as Kensington Palace announced last month, the documentary producer went on to tell Fox News that Prince Charles is very grateful his younger son has someone like the actress-activist in his life. He told the news outlet:
He wants what every father would want for their son… And he can also see she's good for the family. She's great-looking, she's really clever, she loves Prince Harry, she's brilliant on stage — she's a great asset to the family. She's part of the monarchy's future and he knows it.
Even from the beginning, Prince Charles and Markle seemed to have just gelled famously, with many noting how Markle, Prince Charles and his wife Camilla laughed and whispered together like errant kids after Prince Harry got dive-bombed by a bee at a May event.
What's more, back in September, royal reporter Katie Nicholl revealed that an "unnamed family member" told her that Prince Charles has a "lovely relationship with the duchess," according to Cosmopolitan.
Most recently, Duchess Meghan and Prince Harry made an appearance, alongside Kate Middleton and Prince William, at Prince Charles' 70th birthday bash at Buckingham Palace this week, according to People. So it seems that Markle is more than happy to be with her father-in-law on those big days.
With all that's been said about Prince Charles' bond with his daughter-in-law thus far, it seems their relationship will only get stronger from here — especially with a new royal grandbaby on the way.