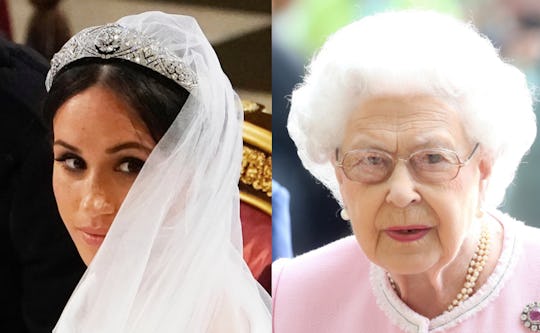 WPA Pool/Getty Images Entertainment/Getty Images/ Chris Jackson/Getty Images Entertainment/Getty Images
Meghan Markle's Relationship With Queen Elizabeth II Seems To Be Pretty Solid — Here's Why
There's no doubt that Prince Harry's new wife is one very special lady. She won the hand of a prince and the hearts of his country (and those across the pond), but has she passed the ultimate test? Following the royal wedding this past weekend, some may be curious about what Meghan Markle's relationship like with the queen is like and how they're getting along now that she's officially a member of the royal family.
From recent appearances, things between the two seem to be pretty good. For example, as the Daily Mail reported, Queen Elizabeth II was spotted giving one of Markle's dogs, a beagle named Guy that she brought over from the United States, a ride to Windsor castle in the back of her car. (Keep a sharp eye seven seconds into the video, it's ridiculously cute.) The queen's love for her corgis (RIP) is well known and the dogs' approval may have been her first clue that she was going to like Markle.
During the couple's engagement interview with the BBC last November Prince Harry exclaimed: "The corgis took to her straightaway. I've spent the last 33 years being barked at and this one walked right in and nothing, just wagging tails."
That telling moment may have taken place at the first meeting Markle had with the queen, since it's doubtful the corgis were ever far from their beloved master. The first meeting took place at Balmoral Castle, according to People, after Prince Harry and Markle had been dating nearly 15 months. They enjoyed some time together and had tea, during which, Markle told the BBC, the dogs were "laying on my feet." Aww poor Prince Harry.
In the engagement interview, Markle spoke about those first moments with the queen, explaining that meeting not just the crown sovereign but Prince Harry's grandmother was a special time. In the BBC interview, she explained:
It's incredible. I think to be able to meet her through his lens, not just with his honor and respect for her as the monarch but the love that he has for her as his grandmother, all of those layers have been so important for me.
Prince Harry also explained how, since they'd been trying to keep their relationship under wraps, they had to try and arrange family meet-and-greet time around the schedule of her trips to visit.
When Prince Harry proposed, the queen had to give her permission for the couple to marry, a moment which caused some to wonder if she was throwing some subtle shade Markle's way. In the official pronouncement of approval, which is required for any member of the queen's line of succession to legally wed, the ruler called Markle by her legal name, Rachel Meghan Markle. Some noted that when she drafted a similar document for Prince William and Kate Middleton, she referred to Middleton as "most trusty and well-beloved." But was it a slight toward Markle? No, according to a spokesperson for Buckingham Palace, who told FEMAIL, as the Daily Mail reported, that the phrase is simply reserved for British citizens.
As the wedding drew closer, the queen also put her stamp of approval on Markle by her participation in the event. Not only did she allow the couple to use St. George's Chapel on the grounds of Windsor Castle, which The Cut described as the queen's favorite residence, she also reportedly invited Markle over to discuss details.Vanity Fair reported that a source said Markle "met with the Queen who wanted to talk through some ideas for flowers and introduced to her some of her events staff."
But in the end who was is that, even before the wedding, got that special public appearance with the queen? Guy, Markle's Yankee rescue beagle, who got to put his little feet right up on the queen's auto upholstery. You know this loving grandmother wouldn't play favorites with any of her grandchildren or their spouses, but when it comes to dogs, all bets are clearly off.