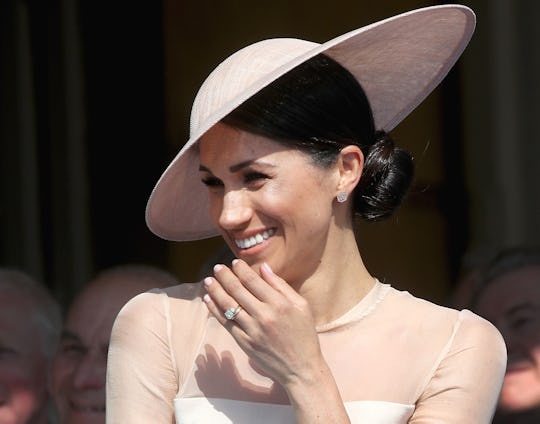 Chris Jackson/Getty Images Entertainment/Getty Images
Meghan Markle's Relationship With The Royal Kids Is A Mystery
Anyone who watched the royal wedding of Prince Harry and Meghan Markle probably noticed that Prince George and Princess Charlotte played important roles. (Many would even argue that they stole the show with their cuteness.) That's because on their uncle's big day, they served as a page boy and a bridesmaid. So clearly, Prince William and Kate Middleton's children must be in the good graces of the new Duchess of Sussex, right?While Meghan Markle's relationship with the royal kids seems amicable, little is actually known.
Although Harry and Meghan had been secretly dating for several months beforehand, news of their relationship wasn't leaked until Oct. 31, 2016, Town & Country magazine reported. Markle ended up meeting Prince Harry's brother, Prince William, the very next month in November. "They got on fabulously. I'm sure Harry had been looking forward to introducing his girlfriend," a source told Us. Weekly A different insider added, "Naturally, William is very happy for his brother." It wasn't until January 2017 that the former Suits actress finally met the Duchess of Cambridge and one of the royal children. A source told Us Weekly that Markle was introduced to Middleton and a then-20-month-old Princess Charlotte on Jan. 10 at Apartment 1A in Kensington Palace. (Where the Duke and Duchess of Cambridge reside.) "Meghan's so happy she's getting to know more of Harry's nearest and dearest," the insider told the publication, also adding the meeting "went well."
Of course, Meghan Markle did eventually meet Prince George, too. And as Elle reported, it was important to Prince Harry that she met his niece and nephew. "The reason he wanted Meghan to meet Prince George and Princess Charlotte was so she could see that — this would be hopefully replicated by them, that they would go on to have children," royal correspondent Katie Nicholl told ET Online in Mardch 2018. She continued:
That you marry into the royal family, but that doesn't mean you can't have a regular family with cute children, and here are George and Charlotte to show that that can happen. That was really important to him.
Nicholl added that Markle is "very doting with children. She is very maternal and she was thrilled to meet George and Charlotte," ET Online reported. So clearly, the potential for the royal children liking Markle is there. (And I'm guessing 1-month-old Prince Louis doesn't have any strong feelings yet, either way.)
In November 2017, Hello! magazine reported that Markle had been introduced to both Prince George and Princess Charlotte — and they had actually met many times. That's probably had a lot to do with the proximity between Prince Harry's home and the home of the Duke and Duchess of Cambrige. Markle had visited Prince Harry on many occasions at his home, Nottingham Cottage, which also happens to be in Kensington Palace. She ended up moving in with her fiance after their engagement November 2017 engagement. Living as neighbors, I'm sure, afforded the soon-to-be-royal plenty of opportunities to get to know her future in-laws — and to bond with Prince George and Princess Charlotte.
Although there aren't too many details about how close Meghan Markle is with the royal kids, what has been reported is overwhelmingly positive. Unless you happen to follow TV writer Gary Janetti on social media, that is. Janetti has become well-known for his satirical memes that hilariously roast Markle, Time reported. And the royal wedding was perfect fodder for a particularly priceless batch of memes focusing on Prince George's apparent (and imagined) hatred for his new aunt. I have to admit, they're unquestionably amusing. Still, I have a feeling they couldn't be further from the real relationship between the royal children and Meghan Markle
So yeah. Don't let these satirical memes fool you. In all likelihood, there isn't some epic rivalry between aunt and nephew. To Prince George, she's probably just some nice lady that hangs out with Uncle Harry. And I have a feeling that through the years, Markle will ultimately become the "fun aunt" to Prince Harry's "fun uncle" reputation.