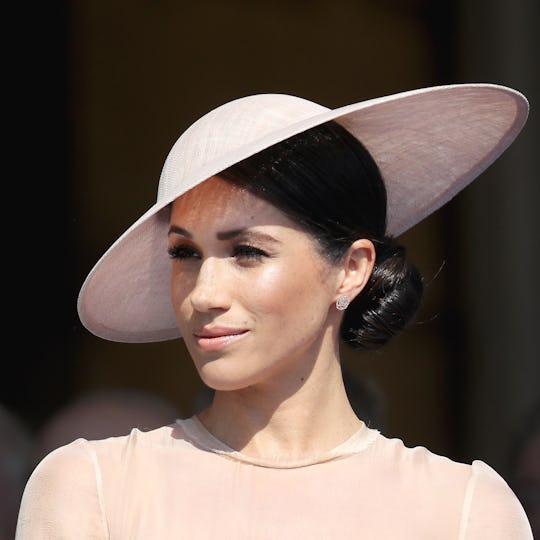 Chris Jackson/Getty Images Entertainment/Getty Images
Kensington Palace Gave Meghan Markle's Official Royal Biography A Much-Needed Update
It's only been a little over a week since Meghan Markle officially became a member of the royal family. And while her wedding to Prince Harry was certainly a gorgeous and lovely affair, her new life as the Duchess of Sussex has really just gotten started. Last week, Kensington Palace updated the royal family's website with a page for Markle, focusing on her dedication to charity and feminism — but it was notably missing a key detail about her life: her acting career. Now, though, Markle's royal bio has gotten a major update to include just that.
When Markle's official biography on the royal.uk website first went live, mere hours after her wedding, there was no specific mention of Markle's former career as an actress. Of course, the biography was still very flattering towards Markle's charitable work and identity, it even quoted her saying, "I am proud to be a woman and a feminist." But the fact that the biography didn't mention that Markle had an extremely successful career as an actress on the hit USA show, Suits, as E! News reported last week, definitely ruffled a few feathers.
Fortunately, though, the official royal website changed its biography for Markle, err, the Duchess of Sussex, and has now paid rightful homage to her acting career. "She most notably played the role of Rachel Zane on the series Suits for seven seasons, completing over 100 episodes," Markle's biography now reads, in part, according to the royal family website.
Previously, it was reported that Markle's education also played second fiddle in her official royal website biography, only existing on the second page of the site, as Metro reported. Now, though, Markle's career and education are getting the proper respect that they deserve. According the royal family website:
Her Royal Highness went on to double major in Theatre and International Relations at Northwestern University in Evanston, Illinois graduating in 2003 with a dual degree.
Markle led an extremely independent, fulfilling life before she married Prince Harry, and it's important that her official royal bio acknowledges that. To the entire world watching her right now, Markle's life might seem glamorous and she carries her success so effortlessly, but it didn't just happen overnight.
Indeed, before she even met Prince Harry, the Duchess of Sussex worked hard as an actress, philanthropist, and the creative mind behind her own website. As the royal website reads:
Alongside her successful career as an actress, Her Royal Highness also wrote and edited a lifestyle website called The Tig which she used as a platform to discuss social issues such as gender equality in addition to articles on travel, food and fashion.
Now, it's understandable that the royal family website would want to focus more on Markle's previous charitable endeavors, as that's much in the same vein as the work she'll be doing as a member of the royal family. But still, now that Markle's career and education are also center stage, her former life seems to have not simply disappeared.
Most of Markle's biography definitely focuses on her charity work and philanthropic efforts. The biography mentions how Markle worked at a soup kitchen while filming Suits in Toronto, Ontario, how she became a leader for One Young World and Markle's position as a UN Women's advocate. Additionally, the site mention's Markle's precocious success in getting a company to change its sexist advertising language when she was only 11 years old.
In case you weren't aware of Markle's young feminism efforts, Glamour reported that she made headlines back in the day for getting Procter & Gamble to change its ad campaign from "women all over America are fighting greasy pots and pans," to "People over America are fighting greasy pots and pans." And now, Markle is able to fight sexism on a royal platform, showing the world that she is still her own person, career and all.