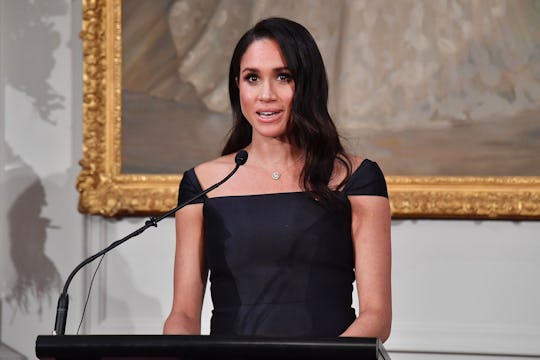 Pool/Getty Images Entertainment/Getty Images
Meghan Markle's Speech About Feminism Hits All The Right Notes
The Duchess of Sussex is one impressive woman. Want some proof? On Sunday — just weeks after that high-profile pregnancy announcement — Meghan Markle delivered a powerful speech about feminism. Girl can do it all, you guys.
Many people experience difficult symptoms during their first pregnancy, and it's completely understandable if these folks decide to take it easy as a result. Although it's not clear if Markle struggled with any frustrating symptoms in her first trimester, it's obvious she's determined to keep up with her hectic schedule until the baby is born.
"Meghan told me that she's feeling pretty good so far, which is great, and that she's running on adrenaline," a woman who hosted Markle and Prince Harry for tea revealed, according to Elle. "She said they're doing 76 engagements in 16 days, with maybe one rest in the middle. She's made for this royal business, isn't she?"
One of those engagements included a reception at the Government House in Wellington, New Zealand Sunday night. The Duke and Duchess of Sussex were there to celebrate the country's 125th anniversary of women's suffrage.
Markle, a staunch and outspoken supporter of feminism, delivered an important speech in honor of the occasion.
The Duchess of Sussex said to the crowd, according to E! Online:
We are proud to be able to join you tonight in celebrating the 125th anniversary of women's suffrage in your country. The achievements of the women of New Zealand who campaigned for their right to vote, and were the first in the world to achieve it, are universally admired. In looking forward to this very special occasion, I reflected on the importance of this achievement, but also the larger impact of what this symbolizes.
Markle was right to commend New Zealand for its feminist efforts. The country's prime minister is 37-year-old Jacinda Ardern, the first elected leader ever to take maternity leave, according to NBC News.
Following the complimentary opening, the Duchess of Sussex went on to say, according to Town & Country:
Because yes, women's suffrage is about feminism, but feminism is about fairness. Suffrage is not simply about the right to vote but also about what that represents: the basic and fundamental human right of being able to participate in the choices for your future and that of your community, the involvement and voice that allows you to be a part of the very world that you are a part of.
Yep, Markle hit the nail on the head here. Although some people try to paint feminists as women who seek some sort of advantage, it's actually about equality. Women deserve the same opportunities and rights as men do, a sentiment that drove the suffrage movement.
The Duchess of Sussex elaborated on this point, adding, according to Us Weekly:
Women's suffrage is not simply about the right to vote for women, but also about what that represents: the basic and fundamental human right of all people, including those members of society who've been marginalized whether for reasons of race, gender, ethnicity or orientation, to be able to participate in the choices for their future and their community.
But Markle arguably saved the best part of her speech for last. "All that separates, whether race, class, creed or sex is inhuman and must be overcome," she said, according to The Independent.
It's absolutely amazing that the Duchess of Sussex continues to speak out on feminism because her voice can influence the minds of a lot of people. Way to go, girl.