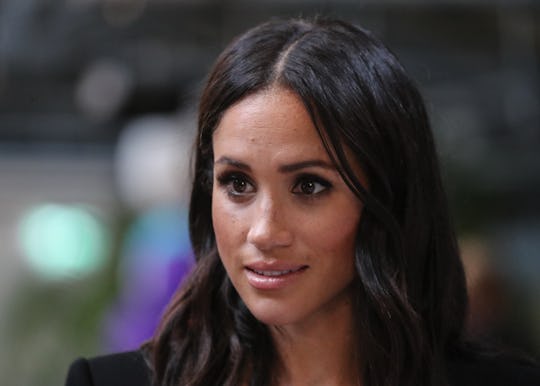 Pool/Getty Images Entertainment/Getty Images
Meghan Markle's TV Dad Just Put Her Real Dad, Thomas Markle, In His Place
It's no secret Meghan Markle's dad, Thomas Markle, probably could do a better job when it comes to guarding his daughter's privacy. Thomas has a long history of spilling sensitive conversations with the Duchess of Sussex to the press, for instance, and he's no stranger to bashing the royal family in interviews. Thomas even went as far as to compare the royals to "Scientologists or the Stepford family," calling them "cult like," The Sun reported. Woah. Luckily, Meghan Markle's "dad" on Suits, Wendell Pierce, isn't afraid to shine a light on the error of Thomas' ways. In fact, Pierce had a strong and much-needed message for Thomas regarding his loose lips.
For a long five years, Pierce played the role of Robert Zane on Suits, aka Markle's on-screen dad. And during that time, Pierce and Markle developed a special bond as friends. Pierce even penned a sweet congrats message to Markle when she got engaged to Prince Harry, Duke of Sussex, in November 2017. "Congratulations to my TV daughter Meghan Markle and Prince Harry on the news of their wedding engagement," Pierce wrote, according to Twitter. "Harry you have her TV Father's blessing. Robert Zane approves." Sweet.
Pierce also elaborated on the moment when Markle — aka Rachel Zane — walked down the aisle to wed Mike Ross (Patrick Adams) in the Season 7 finale of Suits. Shortly before the climatic scene, Pierce and Markle enjoyed a heart-to-heart chat about her future. He recalled, The Telegraph reported:
We had a moment I cherish. I was sitting with Meghan in her wedding dress, as we waited for a set-up. We were alone. I said to her, 'Your life is going to change. It's going to be amazing and I'm very happy for you but I want you to know that I'm your friend, and no matter where you are or what's going on — if the fishbowl that you're in ever starts getting to you — you can call me.'
How kind, right? It's nice to know Markle has someone from her past to lean on when times get tough.
But wait — that's not all. Pierce also addressed Thomas' penchant for controversy, telling him:
If you care about Meghan, the Duchess of Sussex, then that should be the first and foremost in your mind before you say anything. If you love your daughter, just love your daughter. It's not for public consumption.
Well said. If Thomas cares about Markle, he needs to learn how to respect her life and privacy. And Thomas couldn't learn this lesson any sooner, especially since Markle is reportedly distressed about the matter.
"She is still anxious wondering if this will go on forever," a source told Us Weekly. "She's worrying about when it will stop, or if it even will."
The upside is Markle has a few close friends and Prince Harry to lean on at the moment. An insider told ET Online:
Meghan doesn't have a huge circle of friends and the recent weekends with Serena [Williams] and Jessica [Mulroney] were just what she needed. The stress of her father's continued indiscretion is upsetting but she's coping with it the best way she knows how with the support of her husband and BFFs.
What a relief. Markle is lucky to have a tight inner-circle amid this needless drama with Thomas.
Hopefully, Thomas catches wind of Pierce's advice regarding his treatment of Markle. Although Pierce isn't related to the Markle family, he arguably has the right to share his opinion given his close bond with Markle. And whether you're a fan of Pierce or not, it's not difficult to see the truth in his message to Thomas.