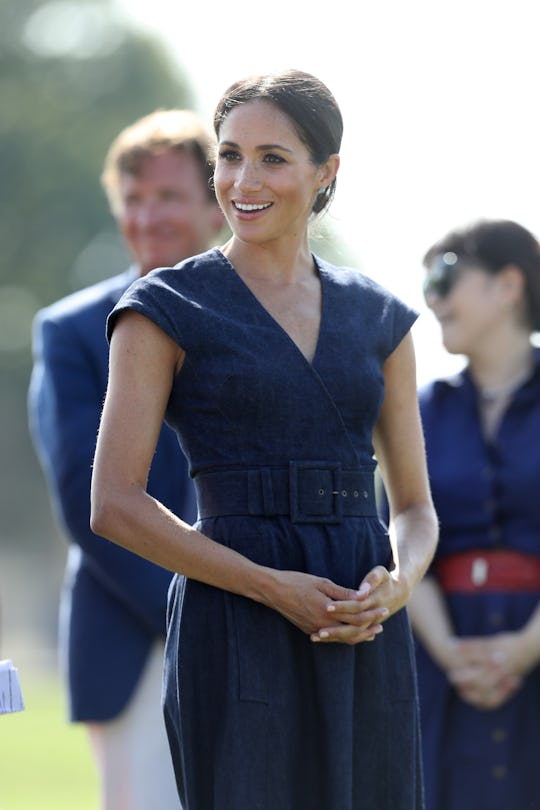 Chris Jackson/Getty Images Entertainment/Getty Images
Now Meghan Markle's Uncle Is Publicly Criticizing Her As Well
As fairytale-esque as Meghan Markle's wedding to Prince Harry may have been, there's no question that she's had to endure more than her fair share of family drama. Meghan's dad, Thomas Markle, has been bashing his daughter in press interviews ever since she tied the knot, accusing her of being "cold" and for cutting him out of her life now that she's a royal — and her half-sister, Samantha Markle, has actually said much worse. But in a recent interview with The Mirror, Meghan Markle's uncle said she "snubbed" him, too, and honestly, can they not just give her a break already?
Thomas Markle's older brother, Michael Markle, told the outlet that he was disappointed to not receive an invite to his niece's royal nuptials, and even said he would have walked her down the aisle in her father's absence "if it [had been] co-ordinated." The fact that he's even talking to the press about the wedding amid all the controversy is *probably* a hint as to why the couple opted to ask Prince Charles to do the honor instead. But just in case anyone were to think that he was just trying to have his brother's back in this extremely awkward family feud, Michael actually told The Mirror that he thought he'd "done more for [Meghan] than the others," and claimed that, as a former United States diplomat, he'd been personally responsible for helping her land an internship at the American embassy in Buenos Aires, Argentina, when she was 20 years old.
In other words, it sounds like Michael feels like he had basically earned his royal wedding invite by helping Meghan out in her younger years. But he certainly isn't the only one to think that way: in an interview with The Daily Mail in July, Thomas Markle chastised his daughter for reportedly "[cutting him] off completely," and claimed that "she'd be nothing without [him]," even telling the outlet that he "made her the Duchess she is today." Thomas said:
When Meghan was 11, she moved back in with me up until she was 17 and went to college. I was having my good years then, making good money, and could afford to give her the best, with a good school, good education, good home. She became the woman that she is today thanks to everything I did for her. And did I get any recognition for it? Any thanks? She doesn't even speak to me now. How cold is that?
And, as if he weren't already laying it on thick enough with that comment, Thomas even told The Daily Mail that, as far as he was concerned, it would likely "be easier for Meghan" if he were to actually die, since then "everybody would be filled with sympathy for her."
Of course, what Meghan's loose-lipped relatives seem to not quite realize is that their continued complaints have already earned Meghan plenty of sympathy — while some have taken the Markles' words at face value, others have just come to see the interviews as a pretty clear explanation as to why Meghan never jumped at the chance to include them in her big day to begin with.
And honestly? It seems that most people would just much prefer it if Thomas Markle and co. would just stop talking to the press, once and for all:
Unfortunately though — both for Meghan, and for the rest of the world — that doesn't exactly look like it will happen anytime soon. In his latest interview, Thomas told The Sun Friday that he thought the British royals "are cult-like," and are "either like Scientologists or the Stepford family" — seemingly because he still can't quite understand why they don't seem up to taking the bait and responding to his comments publicly.
In any case, it seems as though his duchess daughter is about to get some much-needed downtime to decompress with her friends, as well as her mom, Doria Ragland. According to Harper's Bazaar, Meghan is said to have taken a secret solo flight to Toronto — where she lived previously while filming Suits — so that she can spend some time with her pals before flying to California to clock some quality time with Ragland.
Meghan may certainly not be the first person to have to deal with family drama, but honestly, hearing her relatives continue to complain about not being invited to her wedding must be exhausting — not to mention super hurtful. And since it doesn't look like any of them plan on quieting down, hopefully the duchess can at least enjoy her vacation, surrounded by people who care enough about her to keep their opinions to themselves.