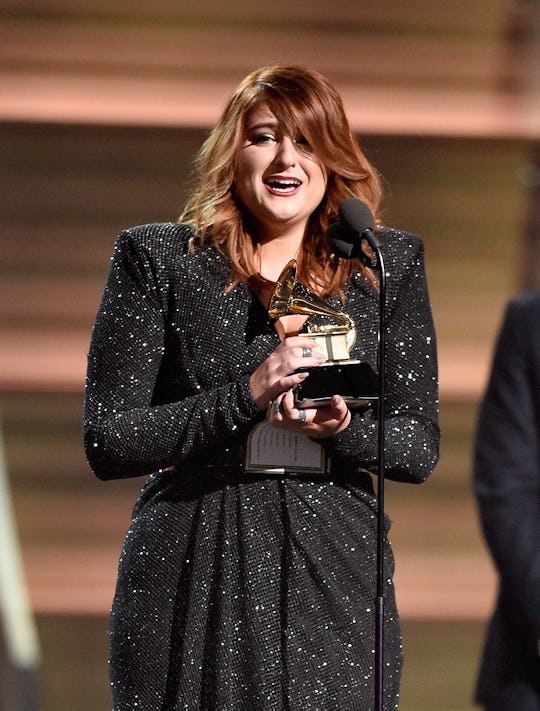 Kevork Djansezian/Getty Images Entertainment
Meghan Trainor Won Best New Artist, But There's One Big Issue With The Award
During the 58th Grammy Awards on Monday night, Meghan Trainor won best new artist, beating out James Bay, Sam Hunt, Courtney Barnett, and Tori Kelly. It was a well-deserved win for Trainor, just as it honestly would have been for any of the nominees. There's just one problem: The category highlights how the Grammys are lacking diversity.
As Fusion pointed out with a comprehensive list of the Grammys Best New Artist winners from history, that category "has the most extreme racial divide of any major Grammy category." It wasn't destined to get any better this year, with Tori Kelly, of Puerto Rican and Jamaican ethnicity, being the only person of color among the bunch.
Congratulations are certainly due to Trainor and her fellow nominees, but it isn't as if there weren't deserving potential nominees of color for the Best New Artist category. Perhaps most notably snubbed was Fetty Wap. As XXL said, "It's more than valid to question if Fetty Wap's role as a young black male from an under-appreciated artform may have played a part in the Grammy committee's decision to eliminate him from the Best New Artist category."
Despite so much (rightful) talk about how #OscarsSoWhite, the Grammys race problem has been largely overlooked. To be sure, there are more people of color nominated and awarded by the Grammys — but that isn't saying much, considering the acting categories at the Oscars consist entirely of white performers. In contrast, 28.5 percent of the people ever nominated for Best New Artist at the Grammys have been people of color. The problem is, they rarely win. Kelsey McKinney for Fusion noted, "White artists make up 71.4 percent of the nominees in this category, and they win the award 77 percent of the time. That's an unacceptable division."
Although the Best New Artist category has the biggest racial discrepancies, Billboard reported that the issue is widespread and attributable to the members voting on the Grammys, but should still be recognized by everyone. Writer Niki McGlouster said, "It's an ongoing problem and discussion best had where the world can participate, weigh in and help diversify the narrative."
Going into the night, there was even more concern about how the Grammys would handle the passing of Maurice White, who was not originally included in the tribute line-up, which happened to only feature white artists. One source told Page Six last week, "The tributes they've confirmed are all white. As of yesterday, there was no tribute at all for Maurice because Grammy producers said they didn't have time." Thankfully, the producers got their acts together and delivered a lovely tribute to White by Stevie Wonder and Pentatonix. Let's just hope they remember to pay tribute to the current artists of color, too.