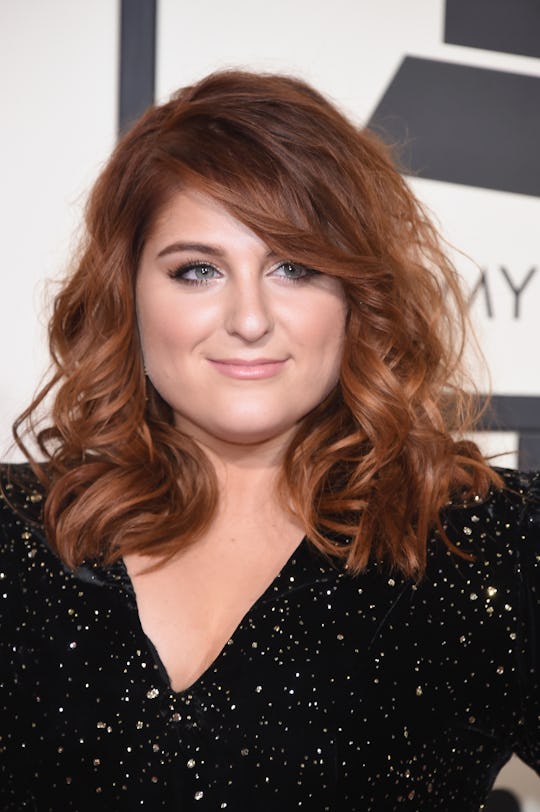 Jason Merritt/Getty Images
Meghan Trainor's Grammys Dress Looks So Amazing With Her New Hair
I hate to be one of those people who cares more about what Meghan Trainor wore to the 2106 Grammys than, say, who actually won awards at the 2016 Grammys but...I totally am that person. At the 2015 Grammy Awards, the 22-year-old singer wore a super glam black gown with lace details and see-through panels (because, 2015). As someone whose visual idea most closely associated with Trainor calls back to her cotton-candy videos looks, I was pretty psyched to see her wearing something decidedly non-kiddie, and unabashedly red carpet worthy.
Hints that the Best New Artist nominee (who is not, at this point, "new" to awards shows at all) would opt again for another awesomely grown-up red carpet outfit came when she wore a red, lace, mermaid gown at a Grammys pre-party on Sunday, February 14th (aww, because Valentine's Day, guys!). While at the 2016 Pre-Grammy Gala and Salute to Industry Icons event, Trainor didn't just bust out a scene-stealing dress; She dropped a new copper hair hue too.
So what other surprises did the Grammy nominee drop on us when she took her new hair, extra-fabulous self on a walk down the red carpet? Well, she was definitely chic as hell. Trainor opted for a long-sleeve, black, sequined gown that made her look so gorgeous...without stealing the spotlight from her new red hair.
Check out the look:
Also, special shout-out to that boxy clutch with metal accents. And her hair — not only newly red — but looking super soft and well-hydrated, which is basically all I care about during winter. Feeling all of this.