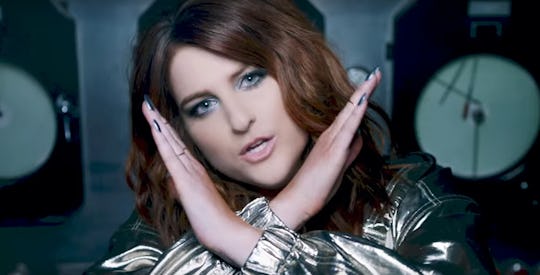 MeghanTrainorVEVO on YouTube
Meghan Trainor's 'No' Lyrics Are The Feminist, Consent Anthem We've All Been Waiting For
I've got to be honest with y'all: sometimes I live in a hole. I don't know if it is motherhood that keeps me sheltered, an intense writing schedule, or suburban life, but I often miss out on TV shows, music releases, and "what is trending." So it should was no surprise (to me) that today was the first time I heard, and watched, the new Meghan Trainor video, "No." And while I went into my first screening skeptical, at best, I've got to say the imagery the video used, coupled with the song's already empowering lyrics, made Trainor's "No" the feminist, consent anthem I didn't know I was waiting for.
The video opens with a shot of Trainor's feet, as she slowly saunters away from the camera. Her heels are clacking on the concrete, and there are buttons and knobs, commercial fans and a fence. Trainor appears to take her fans into some sort of factory. And then — just before Trainor starts singing — the camera pans past a "Danger: High Voltage Keep Out" sign. (Um, hello obvious imagery... obvious imagery that I ate up!) Trainer then belts out the the song's opening lines:
I think it's so cute and I think it's so sweet!
How you let your friends encourage you to try and talk to me
But let me stop you there (oh, before you speak...)
Before breaking into "No's" catchy, strong, and empowering chorus:
My name is no
My sign is no
My number is no
You need to let it go
(But before I get ahead of myself, let me add this disclaimer: If you haven't heard this song, or watched the video, go ahead: I'll wait. Because seriously... just watch.)
You see, Trainor's message — from the outset — is clear: no means no. In fact, I would argue that the lyrics of "No" are a fairly blatant f*ck-you to men, specifically those who feel entitled to approach women in clubs and bars, restaurants, coffee shops, and on the streets because they are, well, women. And yes, guys, there is a big difference between having a conversation with a chick and immediately sexualizing them. Immediately hitting on them. Immediately be aggressive and pushy. And Trainor agrees:
First you gonna say you ain't runnin' game, thinkin' I'm believing every word
Call me beautiful, so original, telling me I'm not like other girls
I was in my zone before you came along, now I'm thinking maybe you should go
Blah, blah, blah, blah
But back to the video: when you listen to the lyrics of "No" and watch the video, Trainor's message becomes all the more powerful, and that much more clear. Because in the video, Trainor and her dancers wear makeup. They wear heels. They wear conventionally sexy clothes — clothes that some might say mean they "want" to be approached — and they do not shy away from femininity. Because strong women can be sexy. Sexy woman can lick their lips and shake their hips without "wanting it" (or asking for it). No still means no. Period. Regardless of what she's wearing or saying.
Does this mean she is "male bashing?" No. Hardly. In fact, in her song she addresses men/dating:
If I want a man, then I'mma get a man But it's never my priority
It simply means Trainor is confident. She is empowered. She knows what she wants, and she is in control of her own body and her own life.
Oh, and Trainor is a feminist — because these ideals are what feminism is all about.
So rock those fishnets and red lips, girl, because I heard your message. Other girls, women and even men are hearing your message, and it matters.