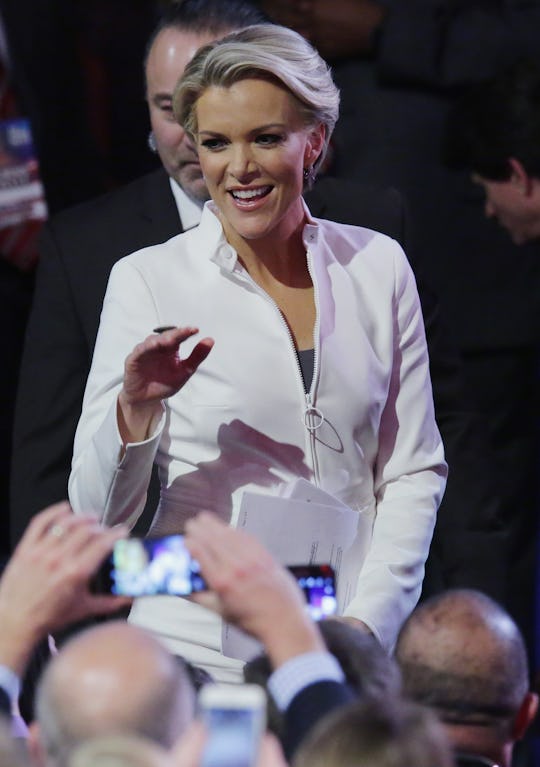 Chip Somodevilla/Getty Images News/Getty Images
Megyn Kelly Details Alleged Harassment By Roger Ailes In Her Memoir, According To A Report
When former Fox & Friends anchor Gretchen Carlson filed a July 2016 lawsuit citing claims of sexual harassment against erstwhile boss Roger Ailes, she ignited a firestorm that quickly led to the media legend's ousting after 20 years as head of the conservative cable news channel. More than two dozen women have come forward with similar accusations following Carlson's bombshell reveal — the latest of whom, Megyn Kelly, details alleged harassment by Roger Ailes in her memoir, according to a Radar Online report. In the manuscript, titled Settle For More, Kelly describes months of purported harassment perpetrated against her by Ailes, including an incident that sounds dangerously close to sexual assault. Susan Estrich, Ailes' attorney, issued the following comment to Romper:
This is what Ms. Kelly had to say about Roger Ailes only one year ago on the Charlie Rose program: 'I really care about Roger. And he has been nothing but good to me. And he's been very loyal. And he's had my back. And he's looked out for me.' Mr. Ailes denies her allegations of sexual harassment or misconduct of any kind.
Citing excerpts of Kelly's forthcoming book, Radar Online writes the alleged harassment began in the summer of 2005, a few months after Kelly was hired as a legal correspondent in Fox's Washington bureau. Kelly was reportedly called to a series of meetings in Ailes' New York office, during which the former Fox News chief began "pushing the limits."
There was a pattern to his behavior. I would be called into Roger's office, he would shut the door, and over the next hour or two, he would engage in a kind of cat-and-mouse game with me — veering between obviously inappropriate sexually charged comments (e.g. about the 'very sexy bras' I must have and how he'd like to see me in them) and legitimate professional advice.
In addition, Ailes allegedly attempted to engage Kelly in "pay for play" by suggesting he would advance her career in exchange for sexual favors — offers she repeatedly rejected. However, the harassment became even more aggressive in early 2006, when Ailes tried several times to kiss her, according to Radar Online:
... In January 2006, she claims, he 'crossed a new line — trying to grab me repeatedly and kiss me on the lips.' When she shoved him away, she alleges, 'he asked me an ominous question: 'When is your contract up?' And then, for the third time, he tried to kiss me.'
The harassment ostensibly lasted about six months, according to Politico, and ended when Kelly told a supervisor about Ailes' behavior. Though adding a chapter about her former boss to her memoir was supposedly a last-minute decision, Kelly was one of several women at the company who cooperated during the original investigation into the accusations against Ailes, according to New York Magazine. Though she didn't speak publicly about her relationship with Ailes at the time of the probe, she seemingly felt a duty to share her story with internal investigators:
'Crossing him was a major risk, but what if — God forbid — he was still doing it to someone?' Kelly writes in the book.
According to Politico, 21st Century Fox (parent of Fox News) paid Carlson $20 million to settle her sexual harassment lawsuit against Ailes. However, Ailes and the company face an ongoing suit filed by former Fox pundit Andrea Tantaros, who alleges similar treatment backed by her psychologist in September court filings:
'In 2014, Andrea told me about meetings with Mr. Ailes in his office where he engaged in highly inappropriate and offensive behavior,' Michele Berdy says in a sworn affidavit filed in NY Supreme Court.
Ailes repeatedly denied the allegations against him, but resigned as chairman and chief executive of Fox News just 15 days after Carlson filed suit. According to Reuters, he received a severance package of roughly $40 million.