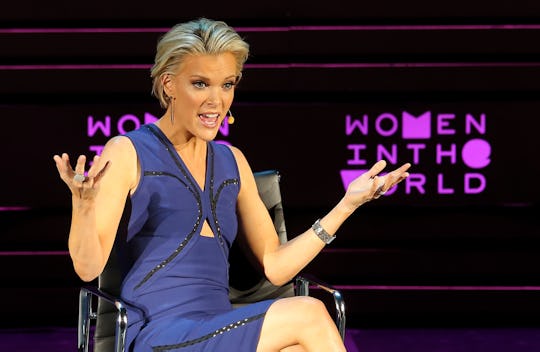 Jemal Countess/Getty Images Entertainment/Getty Images
Megyn Kelly Says Her Daughter Is Scared Of Donald Trump, & Asked Her What "A Bimbo" Is
In an interview with Good Morning America's George Stephanopoulos Tuesday morning, Fox News anchor Megyn Kelly discussed her new book, Settle For More, which has been especially anticipated in the aftermath of the 2016 election. Both in her book and her interview, Kelly spoke of her claims of sexual harassment against Roger Ailes, (Ailes representative has not responded to Romper's request for comment) and her high-profile feud with Donald Trump. Kelly also mentioned her children, and said that her daughter is scared of Donald Trump.
Kelly, who has three children with her husband Douglas Brunt, told Good Morning America that her youngest daughter Yardley, 5, told her she was "afraid" of Trump when the two were at the presidential debate held in Detroit earlier this year. Despite the fact that Kelly has never discussed her interactions with Trump with her children, it seems that Yardley reached the conclusion on her own. Yardley, who Kelly calls "amazing," is the middle of Kelly's three children: she has two brothers, Yates, 7, and Thatcher, 3.
Oddly enough, Kelly said that she has not discussed her ongoing Trump feud with the president-elect, either — despite having a one-0n-one meeting with just before the election.
Kelly described her "off the record" meeting with Trump in her GMA interview, stating that she and Trump did not discuss what she referred to as his "nine month campaign against her." While he did not apologize for his behavior, he welcomed her with a hug. Kelly admitted it was "bizarre" to hug a man who "had tried to torment me for months," but that she "accepted it for the gesture it was."
She talked at length about her experience with Roger Ailes, whom she claims sexually harassed her throughout her first year with Fox News. Kelly said that although she "knew her own experience," she went on to have what she describes as a "healthy working relationship" with Ailes, adding: "A woman can be harassed and then go on to have a good working relationship with the man harassing her." Ailes has asserted several times that Kelly's claims, both in her book and outside of it, are entirely false, stating through his attorney: "I categorically deny the allegations Megyn Kelly makes about me."
In her book, Kelly claims that Ailes tried to kiss her three times, and that each time she rejected his advances. She said that when she mentioned the event to Fox execs, they told her that Ailes was "likely just smitten" and that he was "a good man." Kelly said that since she had barely been at the network one year, and "wasn't the Megyn Kelly of today," she didn't feel she could take the case further without risking her career. She said that Ailes went on to support her advancement and did not harass her again. It was only after more women came forward alleging sexual harassment against Ailes that Kelly began to consider her own experience again, and in a much larger context.
Circling back to her experience with her young daughter, Kelly gave two anecdotes that illuminate the challenging balance for parents in America right now: empowering their daughters while at the same time addressing the reality of the world for women. Kelly said that her "low point" this year was when Yardley came home and asked her what "a bimbo" was — something Kelly feels was likely inspired by Trump retweeting a tweet about Kelly that called her a bimbo. Despite her daughter's young age, Kelly said, "she hears things in this world," — a worry no doubt shared by many parents post-election.
But she also said that last year, when she spoke at Fortune's Most Powerful Women conference, Yardley was excited to go with her. Kelly explained the conference was "a gathering of really strong women to celebrate their accomplishments," to which her daughter replied, "Are we two of them?"
Kelly's book, Settle For More, was released on Tuesday.