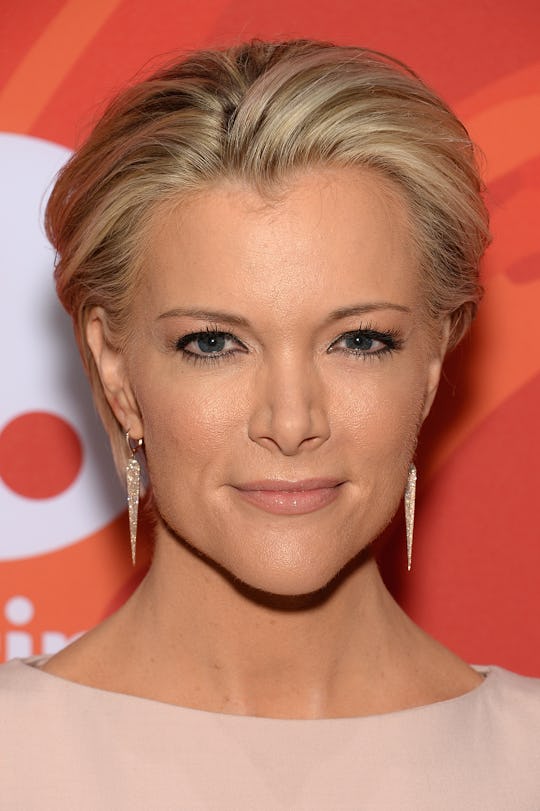 Andrew Toth/Getty Images Entertainment/Getty Images
Megyn Kelly Says Trump Offered Her Gifts & Hotel Stays To Sway News Coverage, & It's Weird
On Tuesday, Megyn Kelly's hotly anticipated tell-all drops just in time to offer a behind-the-scenes look at what it's like to be a conservative super woman in a business ruled ruled by sexist alpha men like Roger Ailes and now President-elect Donald Trump. In the new book titled Settle for More, Megyn Kelly reportedly said Trump offered her gifts and hotel stays to sway news coverage during the campaign. While it's probably no big surprise Trump is willing to make a deal to get what he wants, what is surprising is Kelly going after Trump, once again, in a very public way. You have to hand it to her, Kelly has no fear. She's also emerging as a reluctant feminist foil to Trump's cartoon-ish brand of misogyny.
"This is actually one of the untold stories of the 2016 campaign: I was not the only journalist to whom Trump offered gifts clearly meant to shape coverage," Kelly writes in the book, according to The Hill. "...Trump tried to work the refs, and some of the refs responded."
Romper contacted Trump's press representatives for comment on Kelly's allegations but not yet received a response.
Kelly stressed she passed on the offer from Trump that included a "girls' weekend" and a golf trip to his Mar-a-Lago estate in Florida for her husband, The Hill reported. Even Trump's bribes smack of sexism. A girl's weekend? Come on.
Following Kelly's tough questions about his past comments about women, Trump famously said on CNN, "She gets out and she starts asking me all sorts of ridiculous questions," according to the Huffington Post. "You could see there was blood coming out of her eyes, blood coming out of her wherever."
He also called her a "bimbo," on Twitter through a retweet.
Kelly reportedly also wrote that Trump threatened to attack her on Twitter even before they clashed during the first debate. She said something on her show that made Trump angry, so he refused to show up to his scheduled appearance on her show unless she called him personally, according to The New York Times.
"I almost unleashed my beautiful Twitter account against you," Kelly wrote Trump told her on that call in her new book, the Times reported, "and I still may."
He followed through on that threat.
The comments drew outrage for a hot minute, but were quickly replaced with other ugly rhetoric, insults, and fake, indignant responses. Even Trump's close friend and Fox News head, and Kelly's boss at the time, Roger Ailes said Trump had gone too far and condemned the candidate's "verbal assaults" against Kelly, according to New York Magazine. But soon after that female employees at Fox News accused Ailes of sexual harassment and the executive left the network to take up an unofficial role advising the Trump campaign, specifically, The New York Times reported, prepping Trump for debates.
So much for outrage.
Kelly, who appeared on Live! with Kelly the morning after the election told Kelly Ripa she was shocked by the outcome, but called for the country to come together behind Trump, also offering this solace for freaked out Americans, according to New York Magazine.
My philosophy in hard times or anytime you feel sort of blue or threatened or scared is remember who you are. What happens in the White House does not affect who you are, who your children are, what's most important to you in your life.
Kelly, for her part, is willing to "keep an open mind," she told Ripa, but based on this tease from her new book, she is going to keep calling Trump, Ailes, and everyone else on their bad behavior without apology.