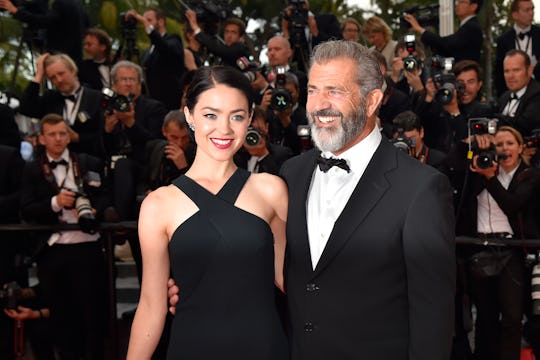 LOIC VENANCE/AFP/Getty Images
Mel Gibson and Girlfriend Rosalind Ross Announce They're Expecting
These days it seems as if everywhere you turn, someone is announcing their pregnancy — from friends from high school on Facebook to celebrities on Instagram. Baby fever has run rampant in 2016 and with three months left in the year, there is sure to be more pregnancy announcements and births within that time. Who is the latest celebrity to catch on to baby fever? Actor Mel Gibson and his girlfriend who announced they're expecting their first child together.
People confirmed on Friday that Gibson and his girlfriend of two years, Rosalind Ross, were expecting. "Mel and Rose are so excited about the baby," a source close to the couple told People. This is incredibly exciting news for fans of Gibson and Ross, who often keep a low profile (neither have any social media accounts) and tend to stay away from the public eye. But just because this is the couple's first child together doesn't mean that its not Gibson's first child. Gibson, who is 60-years-old is the father of eight children — who range in ages from their late 30s to as young as six years old. Gibson has seven children from his relationship with his first wife, Robyn Moore and one child with ex-wife Oksana Grigorieva, according to The Daily Beast. The newest addition to the Gibson clan will have quite the group of siblings and have three nieces and nephews. According to People, Gibson and Ross should be expecting the baby by "early next year."
According to People, Gibson and Ross were confirmed to be a couple in July 2015 after spending time together in Costa Rica. But don't think that Gibson, an Academy Award winner director and actor, hogs the spotlight in the relationship. Ross is successful in her own right — working hard as a screenwriter for a new film starring Ellen Page slated to come out in 2017 and is a champion American equestrian vaulter, something Ross has been doing since she was 9-years-old, according to Heavy.
Gibson has a lot to look forward to in the upcoming future, in addition to his new child. Gibson has a new movie he directed coming out this year — Hacksaw Ridge — that has been getting fantastic reviews. According to Deadline, Hacksaw Ridge received a 10-minute long standing ovation at the Venice Film Festival. And according to Vulture, this movie could mark the sign of a career comeback for Gibson.
This year, as well as early 2017, should be two very exciting and productive years year for both Gibson, Ross, and baby.