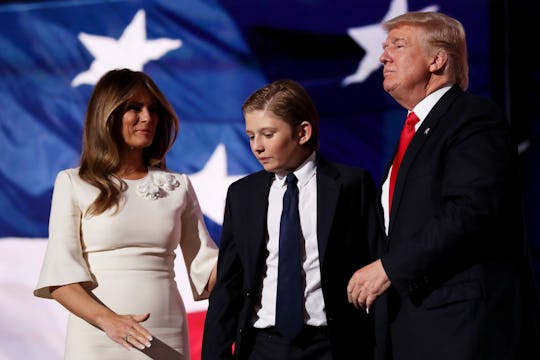 Chip Somodevilla/Getty Images News/Getty Images
Melania & Barron Trump Won't Move To The White House, But It's Not Exactly A Surprise
There are less than two months left until Donald Trump takes up residence in the White House following Inauguration Day. While it might not be as swanky as Trump's current gilded penthouse home in Trump Tower, the White House is one of the most famous homes in the world. Who wouldn't want to live there? As it turns out, Trump's wife and youngest child. A new report by The New York Post claims that Melania and Barron won't move to the White House come January — which, in all fairness, isn't all that shocking.
According to a source who spoke to The Post, the next first lady and first child will not be moving in to the White House once Donald takes the oath of office. Instead, Melania and Barron will reportedly "stay put" in their penthouse in Trump Tower, so Barron "can continue attending his Upper West Side private school." This is understandable. At just 10 years old, any major transition would be tough on Barron. To go from being a relatively unknown 10-year-old boy one day and having your dad become the President of the United States the next is imaginably tough. Having to move cities in the middle of the year and change schools would be even rougher (just ask Sasha and Malia Obama, who probably know exactly what that's like).
According to The Washington Post, there is a "possibility" that Melania and Barron might move to Washington once Barron finishes out the school year, and Melania could technically travel to and from the White House during the first year, as needed. So in the grand scheme of things, it's likely they'll eventually make their way to D.C. — just not right now.
So what does this mean for Trump, exactly? It means that the president-elect might get a little lonely without his wife and child being around — even if he will have plenty of White House staffers and Secret Service agents to keep him company. Melania and Barron's reported stay in New York comes on the heels of earlier reports stating that Trump would travel back and forth from Washington D.C. to New York. According to New York Magazine, Trump would like to spend as much time as possible at his Trump Tower penthouse. If Melania and Barron don't move to Washington D.C., Trump could be traveling a lot more often.
But Barron is not the first child who would have to uproot his whole life for his father's presidency — as mentioned, Malia and Sasha Obama were only 10 and 7 years old when they moved to Washington from Chicago and immediately started school in a new location. Chelsea Clinton was only 12 years old when her father took office and moved the family from Arkansas to Washington. Melania and Barron's stay in their home is something that hasn't been done in the last few presidencies.
And what does this reported stay in New York mean for Melania as the first lady? One of the roles of the first lady, according to The Telegraph, is to decorate the White House and turn it into a home for the family. Living in New York would not necessarily take away from that part of Melania's role of first lady, although she might need to do a bit more traveling than she had planned, once she starts tackling that, as well as her specific chosen platform, cyber bullying.
Given Donald's loyalty to Trump Tower, the place in which he built his home and named after himself, it isn't a surprise that Melania and Barron could be staying there until the end of the school year — no matter what kinds of stress that might put on both the family and taxpayers alike.