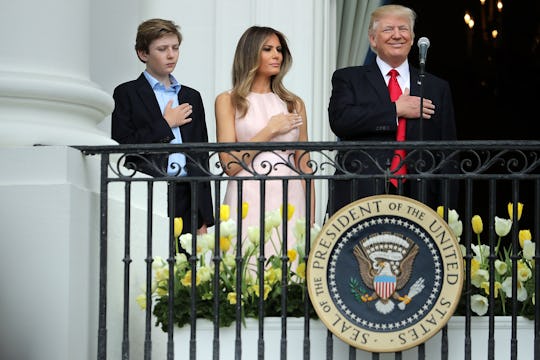 Chip Somodevilla/Getty Images News/Getty Images
Melania Trump Allegedly Agreed To "Get Her Body Back"
President Donald Trump is certainly no stranger to unflattering press coverage, though a recent Vanity Fair story about his marriage to First Lady Melania Trump has unearthed some claims about their relationship that he will likely not at all be happy about. The piece, published Friday, does not contain any actual interviews with either the president or Melania, relying instead on sources connected to the couple. But given Trump's past comments about marriage and women, it isn't exactly hard to believe that the claims could be true. One example? Reporter Evgenia Peretz wrote that Melania Trump allegedly agreed to "get her body back" after her pregnancy with the couple's now 11-year-old son, Barron, in order to get the president to agree to have a child together. (A rep for the first lady did not immediately return Romper's request for comment on the article.)
In the article, Peretz looked deeper into some of the speculation over the nature of the Trumps' marriage, particularly after their interaction during the inauguration in January, which spurred countless memes about #sadmelania and a tongue-in-cheek #freemelania campaign. The idea, of course, was that the woman about to be FLOTUS appeared deeply unhappy — or at least uncomfortable — with her new role, and after eight years of seeing the super-close marriage of President Barack Obama and his wife Michelle, it definitely seemed that the country's new first couple would be very different than what everyone had been used to.
In researching her piece, what Peretz appeared to have found is a number of people who had been associated with the couple through the years, and who were open to speaking about their opinions on the relationship's dynamic. A few aspects of the story stand out specifically: first, the idea that Melania herself was a hardworking and disciplined beauty queen from Slovenia who came to America to make a better life for herself as a model, and, according to her one-time roommate, photographer Matthew Atanian, allegedly ended up finding that better life by entering into a relationship with Trump, whom she met at a party in 1998.
Then, there was the claim that, from Trump's view, Melania's quiet, supportive, and unchallenging nature made her "the perfect mate," according to Peretz. It's a claim that doesn't exactly seem like a stretch, especially given the breakdown of his first two marriages to women very different from Melania. But Michael D'Antonio, author of The Truth About Trump, told Peretz that, Trump had also found in his third wife someone who would be happy to openly praise him to others when told. D'Antonio claimed that he'd once witnessed Trump telling Melania to tell D'Antonio that Trump was a good husband, and claimed that, in the Trumps' marriage "raising his fame, hyping his fame, was a wifely duty" for her.
The claim about Trump's feelings about Melania's pregnancy though is, if true, possibly the most heartbreaking. Peretz wrote that, after seven years of dating, and about six months of marriage, Melania, then 35, became pregnant. Trump, of course, has made no secret of his hands-off approach to parenthood — according to BuzzFeed, Trump told radio host Anthony Cumia in 2005 that he never changed diapers as a dad, and that he thought that men who were involved in child care were "acting like the wife," and only because their partners demanded it. Then, that same year, Trump told Howard Stern what he specifically considered his role as a father to be:
I mean, I won't do anything to take care of them. I'll supply funds and she'll take care of the kids. It's not like I'm gonna be walking the kids down Central Park.
As for his views on Melania as a mom? Two years later, Trump spoke again to Stern and said, "Melania is a wonderful mother. She takes care of the baby and I pay all of the costs."
Peretz didn't name the individual she cited in the article in connection to the pregnancy claim — the source is referred to as "a visitor to one of Trump's homes, late into Melania's pregnancy." But the guest reportedly told Peretz that Trump had said he'd "agreed to the baby on the condition that Melania would get her body back," and that Melania had "promised him that everything would go back to the way it was," before she'd become pregnant.
What's more? The source alleged that Trump wasn't exactly a considerate spouse when his wife was pregnant. Though Melania's spokesperson, Stephanie Grisham, told Peretz that Trump was "very warm and supportive throughout her pregnancy," the guest didn't seem to agree:
There was no 'How do you feel?' No opening of doors, making sure she didn't fall. Just 'You wanted to have a baby.'
The Vanity Fair piece is certainly not the only article to question the nature of the couple's relationship though. In February, Us Weekly quoted an unnamed family source as saying that Melania was "miserable" now that her husband had become president, with Trump family friend and stylist Phillip Bloch telling the magazine that "This life wasn't her dream," and that "it's a lot to cope with." Another Us Weekly story claimed that the couple also maintained separate bedrooms from each other, though Grisham responded to the story and called it "fictional," according to AOL.
Despite the incredibly unflattering portrayal of his marriage, the president hasn't yet commented publicly on it — though he has previously criticized Vanity Fair in the past, claiming the publication has a low readership and is in "big trouble." Time will tell if Trump opts to comment on this latest set of allegations, but if he does, it wouldn't seem unreasonable to expect a rather unfriendly tweet-storm coming the magazine's way.