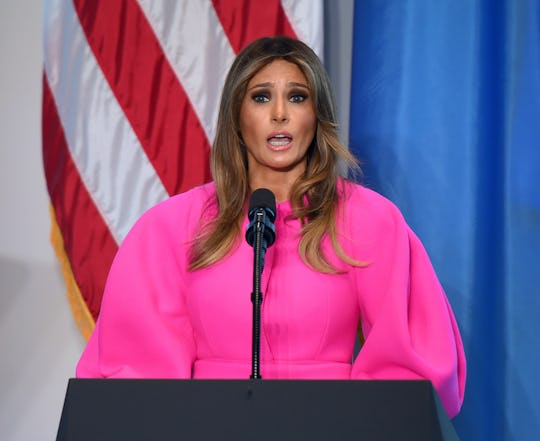 DON EMMERT/AFP/Getty Images
Melania Trump Gets Bullied For Her Dress During, Well, A Speech About Bullying
There is a lot to be said about President Donald Trump. But those same things shouldn't be said about his wife. You can make fun of the president's hair, his policy decisions, and inability to stay on prompt all you want — after all, he chose this life. But the first lady doesn't necessarily speak for him, all the time. That's why it's upsetting to see Melania Trump getting bullied for her dress during a speech about bullying by people on Twitter on Wednesday — especially since the first lady has chosen to make cyberbullying her cause of choice.
During a United Nations luncheon this afternoon, Melania gave "her most expansive remarks" as first lady for the first time. During the speech about bullying, Melania made some points that everyone — both Republican and Democrat, Trump supporter or Trump hater — can agree with. Melania said, according to The Washington Post:
No child should ever feel hungry, stalked, frightened, terrorized or afraid, with nowhere to turn. We much teach each child the values of empathy...kindness, mindfulness, integrity, and leadership which can only be taught by example.
For the biggest speech she has given as first lady, Melania did an incredible job, and her speech is something that people can learn from. But in an ironic twist of fate, people were more concerned with Melania's dress and took to Twitter to cyberbully her instead of listening to the speech.
During such an important speech about her cause of choice, people should have been paying attention to her words, not her outfit. Melania's nearly $3,000 neon dress by Delpozo, according to Yahoo!, is certainly a statement, whether you love it or not. But calling Melania names or comparing the dress to different objects is just plain wrong. It's just as bad as what President Trump does on his own Twitter account.
The message of her speech is something that these "bullies" on Twitter might want to pay attention to. Melania said, according to The Washington Post:
By our own example we must teach children to be good stewards of the world they will inherit. We must remember that they are watching and listening... As adults we're not merely responsible. We're accountable.
But the irony is not lost on the fact that Trump himself could listen to and learn from this speech's message. While it is absolutely wrong for people to bully Melania for her dress, it's also wrong for Trump — who consistently uses Twitter to condemn people and yes, even bully them — to do the same. Although during a 60 Minutes interview last year, according to The Hill, Melania did say that she sometimes pushes back against her husband's tweets.
This speech given by Melania is the first of many expected to be given by the first lady. During the 2016 Presidential Election cycle, Melania stated that as first lady she hoped to combat cyber bullying. "Our culture has gotten too mean and too rough, especially to children and teenagers," Melania said during a campaign stop in Pennsylvania, according to TIME.
Since her husband has gotten elected, however, Melania has remained relatively quiet on the cyber bullying front. Melania has been criticized for her silence when people were bullying their son, Barron, for his clothing choices and when her husband has continued to bully his 2016 Presidential Election opponent, Hillary Clinton, long after the election has ended. And while this speech is a step, according to Politico, there is much more from Melania that needs to be done. Melania has yet to roll out a policy agenda and has been more limited in appearances than her predecessors.
Still, for her first major speech, Melania did an excellent job. Her words and message shouldn't be lost because of her outfit choice. This bullying on Twitter further proves why Melania needs to push for advocacy against cyberbullying even more than ever before.
Watch Romper's new video series, Romper's Doula Diaries:
Check out the entire Romper's Doula Diaries series and other videos on Facebook and the Bustle app across Apple TV, Roku, and Amazon Fire TV.