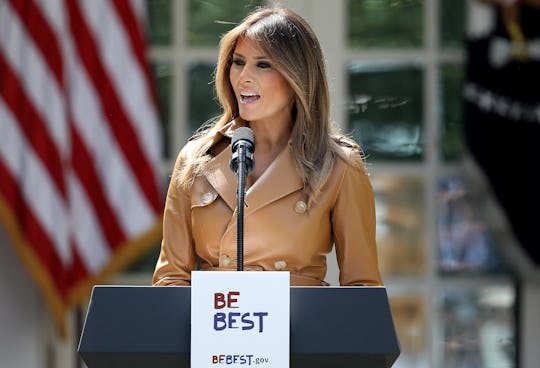 Win McNamee/Getty Images News/Getty Images
Melania Trump Launched A Positivity Campaign For Kids, & The Internet Couldn't Help But Snark
On Monday afternoon — 16 months after Donald Trump was elected president — Melania Trump revealed her formal platform as First Lady of the United States. This is a tradition for the standing FLOTUS, and through the years, the platforms have taken many forms. During a 10-minute speech in the White House Rose Garden, Trump outlined her three major initiatives. Together, Melania Trump's initiatives form a positivity campaign for kids — and we could certainly use some positive action from Washington.
As CNN reported, Melania's program will focus on three main objectives: fighting opioid abuse, well-being, and anti-bullying when it comes to young people. It's called "Be Best," and the theme makes complete sense, considering the FLOTUS has spoken about helping children repeatedly since Donald Trump has taken office. "As a mother and as first lady, it concerns me that in today's fast-paced and ever-connected world, children can be less prepared to express or manage their emotions and oftentimes turn to forms of destructive or addictive behavior such as bullying, drug addiction or even suicide," Melania said to the crowed gathered in the Rose Garden on Monday. "I feel strongly that as adults, we can and should be best at educating our children of a healthy and balanced life."
She continued:
So today, I'm very excited to announce 'The Best,' an awareness campaign dedicated to the most valuable and fragile among us: Our children. There is one goal to be best, and that is to educate children about the many issues they're facing today. If we truly listen to what our kids have to say, whether it be their concerns or ideas, adults can provide them the support and tools they need to grow up to be happy and productive adults who contribute positively to society and their global community.
As Trump continued to reveal more about "The Best," she explained the campaign will focus on. CNN reported this included: well-being, which includes both emotional health and healthy living; opioid abuse, specifically on raising awareness for neonatal abstinence syndrome and stressing the importance of healthy pregnancies; as well as social media, which includes fighting against cyberbullying and teaching kids to use the internet in positive ways.
"I do believe that children should be both seen and heard," Melanie Trump said on Monday, People reported. "And it is our responsibility as adults to educate and remind them that when they are using their voices — either verbally or online — they must choose their words wisely and speak with respect and compassion."
Twitter reactions to the FLOTUS revealing her formal platform are mixed. There's this person, who found it interesting that President Trump signed a "Be Best" proclamation the same day the White House asked Congress to cut funding to a program that provides health insurance to children.
Many also pointed out that Melania's crusade against cyber-bullying is interesting, considering Donald Trump is arguably one of the worst cyber-bullying offenders there is.
Some simply honed in on the grammatical nonsense that is "Be Best."
Others thought "be best" sounded pretty darn familiar. And some thought Melania Trump once again borrowed an idea from former First Lady Michelle Obama. (Remember her infamous speech at the Republican National Convention back in 2016?)
Following her speech, others noticed a striking similarity between Melania Trump's pamphlets on cyber bullying and Federal Trade Commission (FTC) materials from 2014, Slate reported.
Ugh. I have so many mixed feelings about Melania Trump in general, as well and her "Be Best" campaign. On one hand, she seems like a legitimately nice person— and she clearly disagrees with her husband about certain, key issues that make me want to root for her. (Not to mention, she frequently dodges his attempts at PDA, which I admire.) And to be fair, the "Be Best" platform seems to have good intentions. On the other hand, many points of platform is in direct contrast to Donald Trump's real-life actions. Not to mention, her speeches/materials have been considered plagiarized — from Michelle Obama's speeches and now from Obama-era FTC documents.
Then again, it's no wonder Obama likes her.
Check out Romper's new video series, Bearing The Motherload, where disagreeing parents from different sides of an issue sit down with a mediator and talk about how to support (and not judge) each other's parenting perspectives. New episodes air Mondays on Facebook.