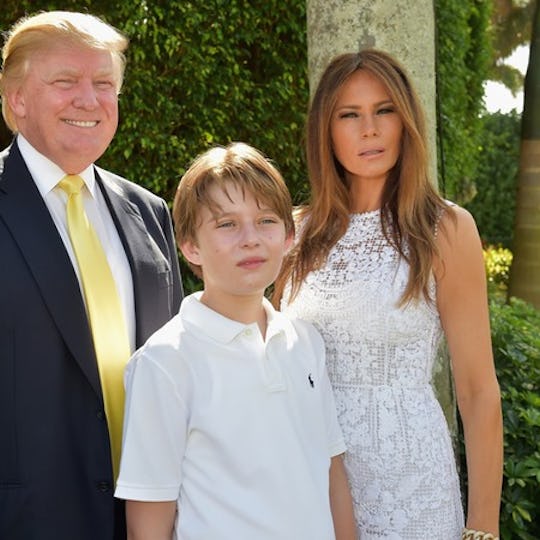 Gustavo Caballero/Getty Images Entertainment/Getty Images
Melania Trump Quotes About Her Son Barron Show How Close They Are
Since Donald Trump has been around for most of my adult life, it's hard to think of him as the father of a ten year old boy. But he and his wife Melania are the parents of Barron, who lives in New York City with his mom while dad campaigns. Melania Trump quotes about Barron show that they spend a lot of quality time together. Barron, who bears the same name as one of the publicists Trump allegedly posed as for a People interview in the early nineties, is a lucky 10-year-old. According to a Melania, he has his very own floor in the family's New York City penthouse, which is a pretty sweet deal.
Although he's not in the spotlight much, he does stand to one day inherit a pretty big fortune alongside his siblings, Ivanka, Eric, Donald Jr., and half-sister Tiffany, who Trump had with ex-wife Marla Maples. But even though he comes from privilege, the Trumps insist that Barron has no nanny to watch over him on that penthouse floor. Trump told People in December 2015, "We keep it down to a minimum. If you have too much help, you don't get to know your children," he said. Instead, Melania spends the days with her son and the way she talks about him, she (like any mother would be) is pretty proud and adoring mom.
On Dealing With The Trump Haters
We're dealing with it and I'm teaching [Barron] the right way and giving him morals and tradition and teaching him values at home. I'm home most of the time with him and being a parent to him. He's 10 years old and he needs somebody at home.
He's Just Like His Father
He is a very strong-minded, very special, smart boy. He is independent and opinionated and knows exactly what he wants. Sometimes I call him little Donald. He is a mixture of us in looks, but his personality is why I call him little Donald.
Barron Was Quick To Say 'Mama & Dadda"
He's a very smart boy with a lot of energy – sometimes he's hard to control. He's walking and talking: He says Dadda and Mama. He's throwing a lot of stuff and he's just an amazing, amazing boy.
Barron Has A Creative Side
When he was 5 years old, he wanted to be like daddy: a businessman and golfer. He loves to build something and tear it down and build something else. He is very detailed at drawing. We travel often and he remembers everything he sees. Sometimes later the same day or the next he would build something like he saw or imagine something himself.
As the general election kicks into high gear, it's likely that Barron will make more appearance on the campaign trail to support his father. Or, maybe, he'll stick to his Legos and drawing and stay out of the limelight. The 2016 election is likely to get NSFW enough for kids.