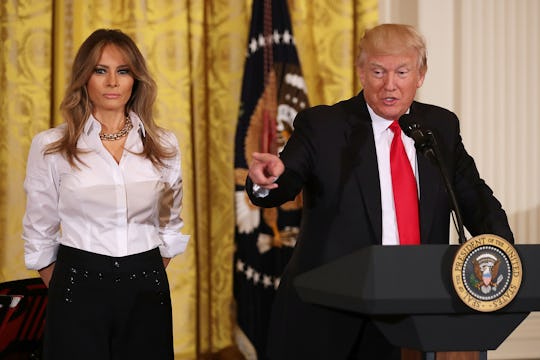 Chip Somodevilla/Getty Images News/Getty Images
How Melania Trump Reportedly Looks Out For Her Husband
Although she appears to be generally disinterested in her role as first lady — some examples include moving into the White House six months after President Donald Trump took office and rarely making public appearances — Melania Trump reportedly watches cable news for the president and is more involved in her husband's presidency than she lets on. According to a recent report from Politico, anonymous "friends and aides" said that the first lady keeps a close eye on how President Trump looks in the press and will alert him of any stories that she thinks portray him badly. And she's reportedly "growing increasingly worried" about the recent leaks that have harmed his public image.
"She has raised concerns that some on his communications and press team aren't doing enough to defend him," Politico reported, citing aides and sources close to the president. "She's been especially troubled by background quotes in which West Wing aides criticize the president, and she's called the president to discuss it." (Romper has reached out to the White House for comment on the claims and is awaiting a response.)
According to the article, Mrs. Trump is especially concerned with White House Press Secretary Sean Spicer and his ability to defend the president at briefings and get ahead of the leaks coming out of the White House. "The leaks bother her. She believes a lot of people are more interested in serving themselves than him," a source reportedly told Politico.
Some recent examples of these leaks include reports from The New York Times that former FBI Director James Comey once reportedly tried to "blend into the curtains in the White House Blue Room" in order to avoid being approached by President Trump and another report that alleged he told Russian diplomats that he fired Comey because he was a "nut job."
"Melania loves the president unconditionally, definitely, she really cares about the president, she feels a kind of protection," longtime friend and former modeling agent Paolo Zampolli told Politico. "The main concern to the president and the first lady is that these leaks are unacceptable."
It's been widely reported that the president is especially concerned about image — whether it's his own or that of his staffers — how his controversial policies are perceived by other world leaders, or his obsession with TV ratings and how they correlate to his success.
While this may be the FLOTUS' way of taking on her diplomatic duties, this behind-the-scenes role makes it appear that the first couple are both extremely concerned with public perception. (That seemed to be the case this past Easter when she was seen nudging the president to remind him to put his hand over his heart for the national anthem at the annual White House Easter Egg Roll.)
Despite Melania Trump's watchdog efforts though, the media isn't going anywhere and it doesn't appear the leaks are either.