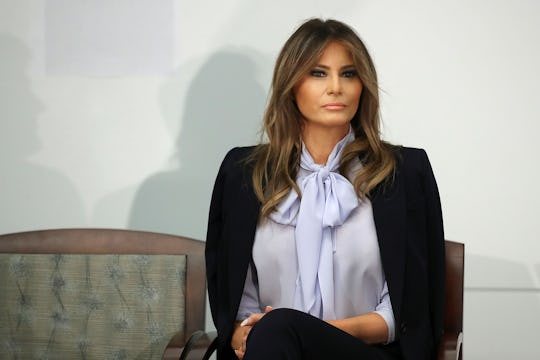 Chip Somodevilla/Getty Images News/Getty Images
Twitter Can't Believe Melania Trump Said She's "The Most Bullied Person" In The World
First Lady Melania Trump has been on a roll over the last few days when it comes to controversial remarks. For instance, Melania Trump recently said she's the "most bullied person" in the world, a statement she issued during an interview with ABC News that aired Thursday. As one might expect, Twitter has some thoughts about her take.
Melania drew angered reactions on Wednesday when she said that women need "hard evidence" to back up their sexual assault allegations, as ABC News reported. "I do stand with women. But we need to show the evidence," Melania said. "You cannot just say to somebody I was sexually assaulted or you did that to me or... because sometimes the media goes too far and the way they portray some stories — it's not correct. It's not right."
In a not-so-surprising twist, Melania's comments upset many sexual assault survivors and their allies. "I'm deeply insulted that you WANT 'HARD EVIDENCE' if WE are SEXUAL ASSAULTED," one person tweeted. "I was sexual assaulted as a CHILD & kept quiet until I was 45 yrs old. Where am I going to get that evidence? I hope you are NEVER ASSAULTED. SHAME ON YOU." Melania did not immediately respond to Romper's request for comment about the backlash.
Although one would think Melania would chill for a bit given the negativity surrounding her at the moment, she decided to issue another controversial comment in an interview that aired Thursday.
"I could say I'm the most bullied person on the world," Melania said while discussing her anti-bullying campaign, Be Best, according to CNN.
When ABC News Chief National Affairs Correspondent Tom Llamas asked Melania whether she really believes she's the most bullied person, she responded, according to The New York Times: "One of them, if you really see what people saying about me."
Although it's true that Melania does catch a lot of heat for her actions and words, it's arguably a big stretch to say that she's the most bullied person in the world, especially since she doesn't seem to condone President Donald Trump's bullying of others. In fact, Melania has even bullied some people herself.
As it turns out, many people on Twitter agree with this sentiment.
One person wrote:
Melania Trump just said that she is the most bullied person in the world.' Her statement reveals both her privilege and ignorance as the most bullied people in the world are the children her husband separated and the women, people of color and LGBTQ people his policies threaten.
"Melania Trump spoke out today about the 'unimaginable evil of abducting children and keeping them in cages.'" another person chimed in. "Haha, kidding, kidding! She said 'I'm the most bullied person in the world.'"
A commenter shared this telling picture in response to Melania's claim:
"Melania Trump thinks she is the most bullied person in the world. Fact Check:"
One person encouraged people to share their own stories of bullying with the hashtag #MyPain:
So @FLOTUS thinks she's the MOST BULLIED person in the world. Having helped countless folks deal with despicable bullies, suicidal thoughts, depression, pain, If you can share in this thread your experience, maybe we can educate her on this very real epidemic. Use hashtag #MyPain
Someone else brought up the fact that Melania perpetuated the birther conspiracy theory about former President Barack Obama. They said:
Melania Trump—who supported the birther conspiracy, says that women should only come forward with abuse allegations if they have hard evidence, and is married to the Bully-In-Chief—is complaining that she is one of the most bullied people in the world.
Of course, there are plenty of other examples out there of Melania either condoning or engaging in bullying. And considering how many receipts there are, one has to wonder why Melania said this comment. Does she truly lack any self-awareness or is she gaslighting Americans? It's a question for the ages.
If you're frustrated about Melania's comments, take the time out to support organizations that raise anti-bullying awareness, and don't hesitate to talk to your kids about this important issue. One of the best things you can do with anger is to get productive.