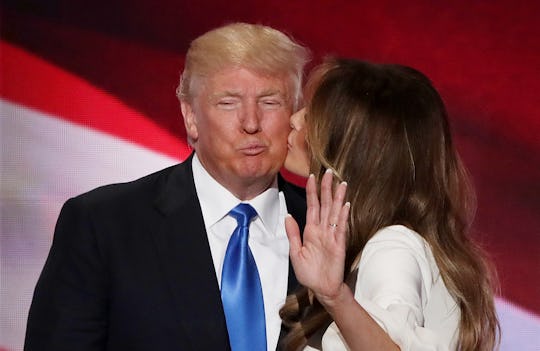 Alex Wong/Getty Images News/Getty Images
Melania Trump Says Billy Bush 'Egged' Donald Trump Into Making Lewd Comments About Women
Melania Trump is speaking out. Addressing the extremely lewd language used by the Republican presidential candidate in the leaked 2005 Access Hollywood tape, Melania Trump said Billy Bush "egged on" Donald Trump into engaging in the conversation about his own sexually aggressive behavior towards women. The GOP nominee's wife told CNN's Anderson Cooper on Monday that she had never heard her husband use the kind of language that he used in the unearthed recording and regarded his remarks as "boy talk."
"I said to my husband that, you know, the language was inappropriate. It's not acceptable. And I was surprised, because that is not the man that I know," Melania told Cooper on Monday, in her first on-camera defense of her husband since the tape was first published by The Washington Post more than a week ago.
"And as you can see from the tape, the cameras were not on — it was only a mic. And I wonder if they even knew that the mic was on," she continued, saying that because Bush and Trump may not have known that they were being recording is why they engaged in "boy talk" and that her husband was "led on — like, egged on — from the host to say dirty and bad stuff."
Since the conversation on the tape leaked — which took place just months after the couple married in January 2005 — a number of women have come forward with accusations of unwanted sexual advances from the Republican nominee, saying he forcefully kissed or groped them over a period of decades. Trump has vehemently denied all the claims while his wife called the accusations "lies," according to CNN.
While Melania told CNN that she was surprised by the language used by her 70-year-old husband in the tape, she likened it to a conversation adolescent boys would have.
"No. No, that's why I was surprised, because I said like I don't know that person that would talk that way, and that he would say that kind of stuff in private," she told CNN. "I heard many different stuff — boys talk. The boys, the way they talk when they grow up and they want to sometimes show each other, 'Oh, this and that' and talking about the girls. But yes, I was surprised, of course."
Before her appearance on CNN, Melania first issued a written response to the tape a day after it was released, asking others to "accept his apology." (The candidate issued a videotaped apology hours after the video's release, dismissing his language as "locker room banter" and a "distraction" from larger issues.)
"The words my husband used are unacceptable and offensive to me. This does not represent the man that I know," she said in the statement. "I hope people will accept his apology, as I have."
Like so many other Americans, Melania Trump was obviously hurt and disgusted by her husband's words and alleged conduct. But the would-be first lady — the person who might possibly be the most offended by the video — casting blame for the lewd conversation on another person is almost frustrating as the vicious election cycle itself.