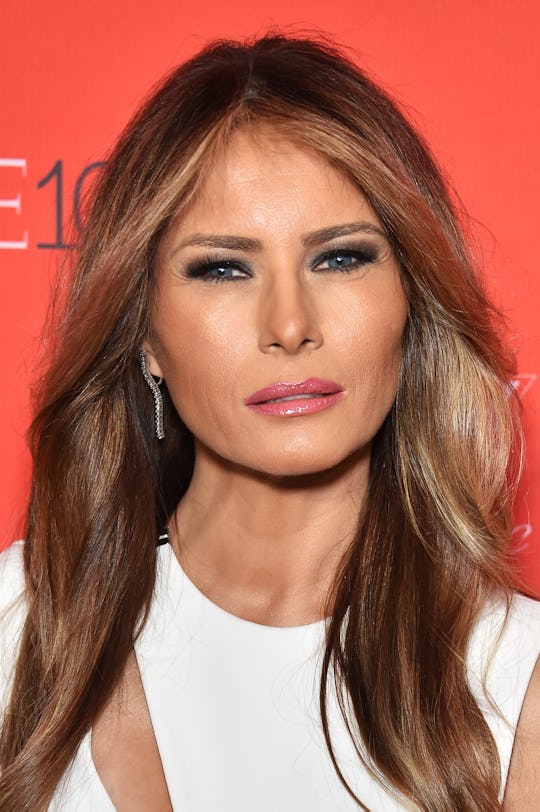 Dimitrios Kambouris/Getty Images Entertainment/Getty Images
Melania Trump Says Husband 'Isn't Hitler' & Twitter Isn't Buying It
Donald Trump is very likely going to be the Republican nominee for president, so it's only natural for the general public to want to get to know him and his personal life. His wife Melania has recently been the subject of interviews as well, and it's naturally lead to reporters asking about how she feels about public criticisms of her husband, since she's been pretty absent on the campaign trail. This week, in an interview with Dujour, Melania Trump said that her husband "isn't Hitler" in response to a reporter's questions about a comment from comedian Louis C.K. about the frontrunner's character.
"We know the truth. He's not Hitler. He wants to help America. He wants to unite people," she said. She added that his policies shouldn't be taken so seriously. In regards to his ban on Muslim immigrants she said that Trump "needs to say it in a softer way," according to Politico. She continued:
He doesn't go after religions. He feels like we need to know who's coming to this country. If not, we don't have a country. That's how he feels. We see how he is, and he wants to unite the country and bring people together and bring jobs back.
The possible first lady was recently the subject of an interview in GQ by Julia Ioffe, which has forced her into the spotlight of the upcoming campaign. Shortly after the piece was published, Ioffe was the target of Internet bullies and anti-Semitic slurs. Trump told the press that the reporter "provoked" the harassment with her piece, which was a profile of Mrs. Trump's background and life before marrying Trump. Now, it looks like Melania wants to speak for herself, but her statements on Tuesday about her husband's policies seemed to echo his own stump speeches. And they didn't stop Twitter from speaking its mind about how divisive Trump can often be. "He's not Hitler" is a little too much for Trump opponents to handle.
Sure, we all know that Donald Trump isn't actually Hitler (that would just be crazy), but his supporters seem to be activated, in often bigoted and violent ways, by his stance on immigration.
It's worth noting that "outsider" candidates like Trump tend to attract extremists. This weekend, supporters of Vermont Sen. Bernie Sanders reportedly harassed Roberta Lange, the head of Nevada's Democratic party. After refusing rule changes at the Las Vegas convention, she said that the feedback has been "vile."
"It's been threatening messages, threatening my family, threatening my life, threatening my grandchild," she claimed to The New York Times.
In an election this contentious, it's hard for candidates to corral their supporters. That the Republican frontrunner's wife has to remind the general public that "he's not Hitler" might not be the best selling point or the best sign that things will be getting better anytime soon.