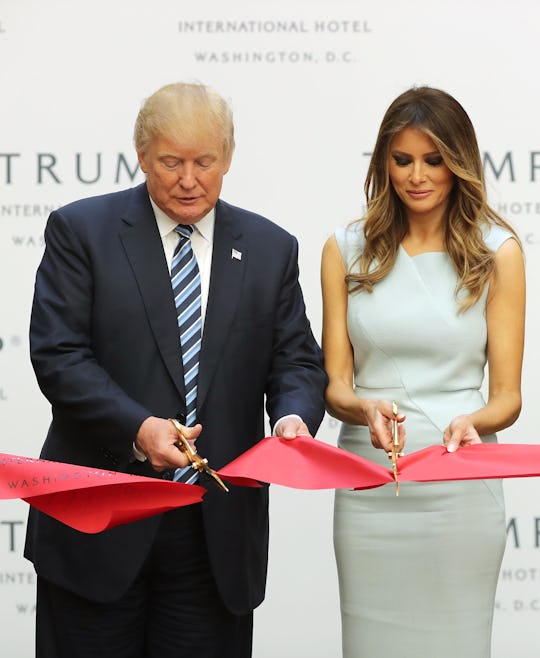 Chip Somodevilla/Getty Images News/Getty Images
Melania Trump Says She Wants To Protect Children From Social Media As First Lady (LOL)
You guys, I'm now almost totally convinced Melania Trump is trolling us all. Everyone already knows Trump's third wife is fluent in five langauages, but I'm starting to think homegirl speaks a sixth language we're just starting to find out about, and it's shade. Melania Trump said she wants to protect children from "hurtful" comments on social media as First Lady. Yes, for reals.
It can't be easy to be Melania. Americans got just a tiny sliver of a view into her world this week when she and Donald sat down for an interview with Good Morning America. When asked during the interview whether Melania would be headed back out on the campaign trail in these final days, her answer was non-committal.
"I'm there for him every time he needs me," Melania said vaguely, according to Politico. "And I might join him—we will see." Donald obviously has other plans he hadn't yet shared with his wife before they were sitting on national television.
"She's actually going to make two or three speeches," Trump corrected.
All Melania was left to do was let out a little surprised "Oh!" Trump went on completely ignoring Melania's surprise.
"Well, it is. It's, it's — she's amazing when she speaks," Donald Trump said, according to Politico. "She's an amazing public speaker so she's agreed to do two or three speeches, and I think it's going to be big speeches, important speeches, and I think it's gonna be great."
But the really awkward moment came when Melania was asked about causes she would want to take up during her time as First Lady, and she said she would want to work to protect kids on social media because it's "very hurtful to children," according to Politico. Of course, George Stephanopoulos didn't miss the irony, and he was quick to point out that Trump has been quite the bully on Twitter over the last year of his campaign, often tweeting insults at people including Megyn Kelly, Texas Sen. Ted Cruz, and Hillary Clinton after the second and third presidential debates — and, of course, most of his tweet storms come at around 3 a.m. In response, Trump said, according to the New York Daily News:
Most of them deserved it. I believe in fighting back. When people are against me, when they tell lies, you know, I have the power of this instrument and frankly sometimes I'll use that. And I agree sometimes it will revert back or sometimes maybe it doesn't come out — you have to be careful with it.
Melania said she chastises Donald about his social media use "all the time," but that ultimately it's outside of her control. "We need to teach them how to use it. What is right to say. What is not right to say," Melania said during the interview on Good Morning America.
The New York Times recently published a full two-page spread chronicling the many insults Trump has hurled on Twitter. If the visual isn't stunning enough, this online version links to each and every tweet insult so you can see it for yourself.
I want to believe one day Melania will have enough and finally speak up and speak out against her husband's behavior. It's not kids who need protecting — it's people like Donald who need to filter themselves. But in the meantime, maybe someone could tell her she doesn't need to live in the White House to make a major dent in the amount of toxic awfulness on social media. All she needs to do is hide her husband's Android.