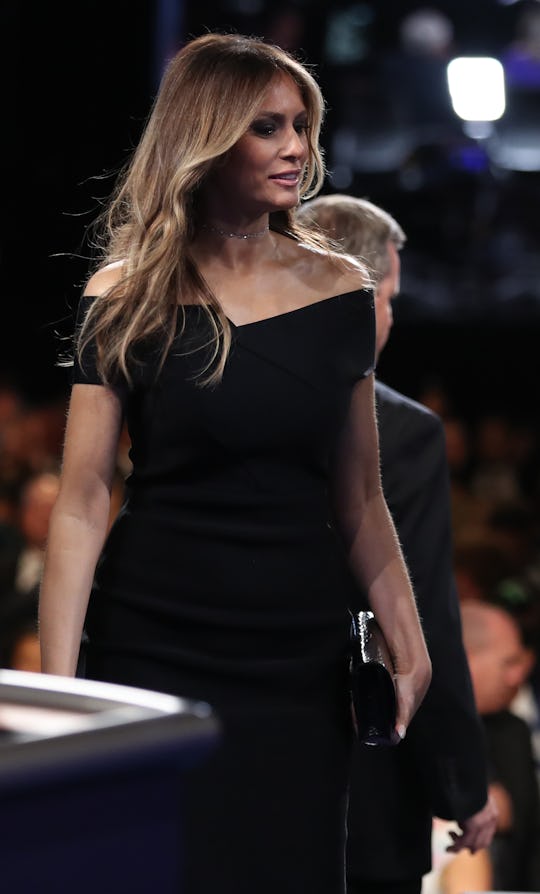 AFP/AFP/Getty Images
Melania Trump Says Trump Accusers Have No Proof & Her Supporters Expose A Double Standard
In her first on-camera interview since the leaked Access Hollywood tape from 2005 fueled a number of women to come forward with accusations of sexual assault against Donald Trump, Melania Trump said Trump's accusers have no proof and called their claims "lies." In the wake of her comments made during the interview with CNN's Anderson Cooper on Monday night, many on social media were quick to point out that Hillary Clinton was blasted, and perhaps rightfully so, for siding with her husband when a slew of sexual assault accusations were made against him. The Trump campaign has labeled Clinton as an "enabler" for doing so, and the way Trump supporters have chosen instead to distinguish Melania Trump's loyalty and support for her husband exposes a sad double standard that still exists.
"I believe my husband. I believe my husband," she said in an interview with CNN on Monday. "This was all organized from the opposition. And with the details ... did they ever check the background of these women? They don't have any facts."
In the same interview, GOP nominee's wife also said that Billy Bush "egged on" her husband into engaging in the leaked Access Hollywood conversation from 2005 about his own sexually aggressive behavior towards women and regarded his vulgar remarks as "boy talk."
One accuser's account, in particular, Melania Trump attacked during the CNN interview. Her lawyers have also reportedly threatened legal action. Melania Trump said the first-person account published in People by journalist Natasha Stoynoff never happened (the same account in which Stoynoff said that Trump pushed her up against a wall and forcefully tried to kiss her while she was working on a story about the couple's first wedding anniversary).
"Even the story that came out in people magazine, the writer she said my husband took her to the room and start kissing her," she told CNN. "She wrote in the same story about me — that she saw me on 5th Avenue, and I said to her, 'Natasha, how come we don't see you anymore?' I was never friends with her, I would not recognize her."
She added that this account, "was another thing like people come out saying lies and not true stuff."
Many on social media were quick to point out the similarities between Clinton and Melania Trump's support for their husbands, but also the stark difference between the responses:
While this year's presidential election has elicited deeply divisive responses from both campaigns and Americans in general, the double standard treatment of women and the subsequent backlash seem to have proven one thing: The election has hit an all-time low.