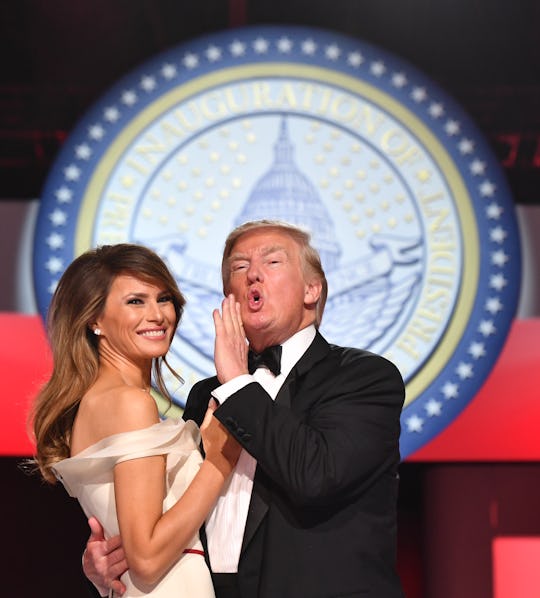 Pool/Getty Images News/Getty Images
Funny Melania Trump Face Memes At Super Bowl 51
There was a lot of talk about where President Donald Trump was during the most televised night of the year. Spoiler: He wasn't in Houston for the Super Bowl, instead he was in West Palm Beach, Florida at, what looked like, a rather tame party for the big game. Sitting next to him at the Trump golf course was the first lady and these memes of Melania Trump's face at Super Bowl 51 show that football isn't for everyone.
The hilarious minds on social media cropped, zoomed in, and basically just had fun with photos snapped of Melania, dressed down in a blue sweater with white pants, looking bored out of her mind as her husband sat next his Chief of Staff Reince Priebus as they watched the showdown between the New England Patriots and the Atlanta Falcons.
To be fair, though, the setting for the party was pretty sad. It looked like they were at a weekday luncheon held in a ballroom rather than an upbeat Super Bowl bash. As far as the photos can reveal, there were no cheesy dips or nachos to munch on. No sign of any beer, let alone something cheap with "light" in the name. No one was dressed in any kind of football attire for their favored teams. People were dressed in suits and evening wear while they sipped on lemon water. There was a lot going against it.
See for yourself. Does this look like they're at a fun good old American Super Bowl party?
It looked like the night got off to an exciting start when they were greeted by a high school band and cheering squad.
But, once the first couple arrived at the poorly decorated Super Bowl party at one of Trump's resort, things kind of went downhill from there.
So, who could really blame her?
At one point, it looks like boredom was simply too much and she just left. Or she just went to the bathroom. I'm just speculating.
Of course, Twitter went wild with the opportunity to poke fun at the gathering. Here are some of the best:
As the old saying goes, a photo speaks a thousand words and we can talk for hours about how much fun Melania did or did not have watching the Super Bowl. But, the truth of the matter is that it's impossible to know what she was thinking or feeling when those photos were taken of her. It sure looks like football is not her thing, and I'm sure I would look just as upset if I had to watch football without a platter of unhealthy snacks in front of me.