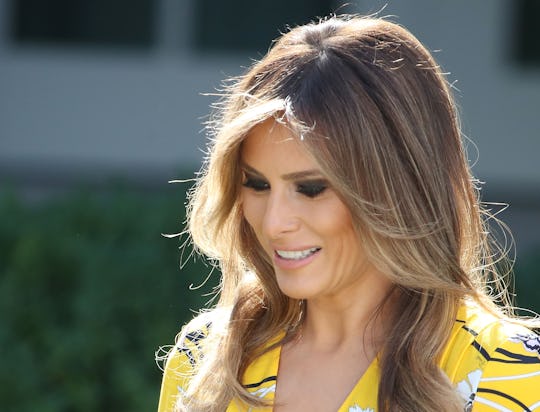 Mark Wilson/Getty Images News/Getty Images
Melania Responds To The Mika Brzezinski Incident
It's no secret that President Donald Trump is a cyberbully. His Twitter account is essentially a digital record of sexist and racist insults he's made against elected officials, reporters, celebrities, and private citizens. He was back at it on Thursday when he tweeted a vicious attack on Mika Brzezinski. Although Trump has been largely lambasted for his tweets about the co-host of MSNBC's Morning Joe, his wife's defense is raising eyebrows. Why? Because Melania Trump's response to Donald's Mika Brzezinski tweet is incredibly hypocritical.
Donald Trump sent two tweets around 8 a.m. Eastern Time that read,
I heard poorly rated @Morning_Joe speaks badly of me (don't watch anymore). Then how come low I.Q. Crazy Mika, along with Psycho Joe, came..
...to Mar-a-Lago 3 nights in a row around New Year's Eve, and insisted on joining me. She was bleeding badly from a face-lift. I said no!
According to Elle, Melania's communications director said in response to the tweets that, "As First Lady has stated publicly ... when her husband gets attacked, he will punch back 10 times harder." It's a problematic and head-scratching remark considering that Melania had made fighting cyberbullying the cornerstone of her work as first lady.
Cyberbullying is pervasive, especially among youth. According to NoBullying.com, more than 50 percent of young people report being attacked and threatened online. As the Boston Globe reported, the first lady unveiled an anti-cyberbullying initiative earlier this year that would make that statistic a thing of the past. Yet, by her communication director's remark, it seems she's satisfied with her husband calling Brzezinski "crazy" and attacking her looks. A representative for the first lady did not immediately respond to Romper's request for comment.
Melania is not the only one to describe the president as a person who "fights back." White House Deputy Press Secretary Sarah Huckabee Sanders doubled down on this defense when talking about the president's tweets. According to the New York Times, Huckabee said in an interview on Fox News that it's "necessary" to "push back against unnecessary attacks on the president." Donald Trump, she said, is
a president who fights fire with fire and certainly will not be allowed to be bullied by liberal media, and the liberal elites within the media.
Obviously, the White House's assaults on the "liberal" media are nothing new (at this point, the "the press is the enemy" line of defense should be expected whenever the president does something barbaric). Still, they're always dangerous. By screaming "fake news" — while promoting actual fake news — the Trump administration is rejecting the Constitution, emboldening attacks on reporters, and destroying a free press.
But what's most disturbing about Huckabee's defense of the president's tweets is that she doesn't describe a leader of a country. Instead, in her interview with Fox News, Huckabee treats the whole situation as if it's a scuffle on a middle school background, effectively stroking the president's ego and overall arrogance. Victim-blaming at its finest, really.
Elected officials, celebrities, reporters, and private citizens — the groups of people who've been subjects of President Trump's attacks — have all pointed out Melania Trump's hypocrisy. And it should be continued to be pointed out until she either revokes her statements or drops the fallacy of her anti-cyberbullying initiative.