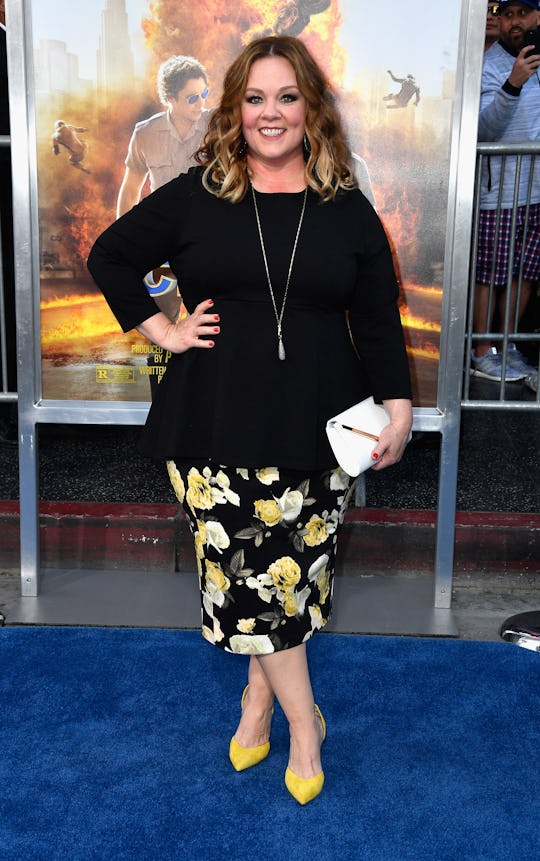 Frazer Harrison/Getty Images Entertainment/Getty Images
Melissa McCarthy Cruises Around On Sean Spicer's Lectern
Spicey is back! (Sort of.) On Thursday, fans of Saturday Night Live — or just good political comedy in general — were given a special treat when actress and comedian Melissa McCarthy was spotted cruising a New York street behind Press Secretary Sean Spicer's briefing room lectern, presumably filming for the show itself.
Unsurprisingly, the scene went viral, with passersby posting videos and photos of McCarthy (who was also dressed as the press secretary) screaming at traffic and waving her arms in traditional Sean Spicer-style.
"Come on!" McCarthy could be heard yelling in one user's post, angrily waving at the car in front of her. "Go!"
Twitter exploded. "PERFECT END TO THE WEEK," one account wrote. "Trump should just hire Melissa McCarthy to do the press briefings. There's really no downside," joked Ben Shapiro, editor in chief of the Daily Wire.
The media itself — often the subjects of the real Spicer's ire — seemed to get a kick out of the moment as well. Inside the CNN offices, staffers and hosts alike who had just caught sight of McCarthy prepping for the scene rightfully began freaking out. "Melissa McCarthy is outside [dressed] as Sean Spicer," one unnamed staffer said in a video posted by producer Donie O'Sullivan, prompting a colleague to scream, "No way!" "This is so cool," another staffer could be heard laughing in the background.
Across the social media platform, users could barely contain themselves (which, all things considered, is a very reasonable reaction to seeing Fake Sean Spicer rolling around on a motorized press briefing lectern):
Despite the real Trump White House being plagued with controversy from the outset, McCarthy's impersonation of Press Secretary Spicer has undoubtedly been one of the better things to come from the now-three month young administration. The actress first made her "Spicer" SNL debut back in early February, yelling at fictional reporters and trying to shove far too much chewing gum into her mouth at once. The bit drew massive public and political acclaim from across the board, with Spicer himself even joking that his only criticism of her portrayal was that McCarthy could stand to ease up on the chewing gum.
"[She] needs to slow down on the gum chewing," he joked during an interview with Extra TV ahead of the Super Bowl. "Way too many pieces in there."
McCarthy is set to revive her press secretary impersonation on SNL once again this Saturday, May 13, according to Newsweek. Whether the real Sean Spicer will ever join her at the rolling lectern is still yet to be seen. (Just know the offer is there, Spicey. Just know that much.)