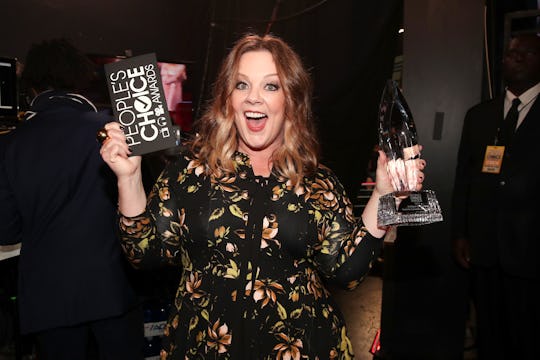 Christopher Polk/Getty Images Entertainment/Getty Images
Sean Spicer Returns To 'SNL' In The Best Way
While we were all following the news of Rosie O'Donnell playing Steve Bannon, we all forgot to ask the most important question: would Melissa McCarthy return as Sean Spicer on Saturday Night Live? The answer, thank the television gods, is YAAAS. No matter what side of politics you come down on, one thing has truly been made great again under Donald Trump and that's Saturday Night Live talent. Come on, admit it.
After making her debut last week as the beleaguered press secretary, McCarthy came even harder this week, beginning the sketch with a ginormous piece of cinnamon gum to chew (and swallow) to get her Spicer through the press briefing.
It got real (as if it wasn't already) pretty quickly. McCarthy's Spicer moved to answering questions from the press about Trump's travel ban. And turned to two boxes full of Barbie dolls to make it very clear to reporters that it's not as complicated as the "lamestream media" might make it out to be. McCarthy pulled out a blonde Barbie to explain to the "dumb babies" in the press core the inner workings of the executive order.
"We know she's OK because she's blonde" McCarthy's Spicer said, her forehead bulging in a near superhuman effort to impersonate the press secretary. Next up? A Moana Barbie. She has more trouble with the travel ban, as one might imagine.
Other highlights from the sketch included a recurring appearance from The New York Times' Glenn Thrush, "Don't F with me, Glenn," McCarthy's Spicer yells into the room, probably channeling every inner thought the real Sean Spicer has ever thought answering any question, ever. (Just guessing.)
But that wasn't the only crazy question Spicer had to answer. Enter Ivanka Trump and Nordstrom. "These are high, high quality items. In fact, I'm wearing one her bangles right now," McCarthy's Spicer humblebrags. He then goes into the QVC-type description of the bangle, directly reference Kellyanne Conway's comments earlier in the week that Americans should "go buy" Trump's daughter's wares at the department store.
McCarthy as Spicer is absolutely on point for anyone who has been watching the press briefings throughout the week. But the Trump administration isn't totally thrilled. According to Vanity Fair, Spicer originally liked the sketch.
A source close to the press secretary told the magazine earlier this week that he "thought the Saturday Night Live thing was quite funny and totally got it." But the man himself later told Politico that he wasn't so thrilled to be a viral sketch. "I would much rather have the focus be on the president's agenda and the success he's having. That's all I'm saying on it," he said.
Either way, there's sure to be a tweet or two about the sketch in days to come from the administration. And maybe even another appearance by McCarthy as the press secretary if press briefings this week are just as out of control as they have been.