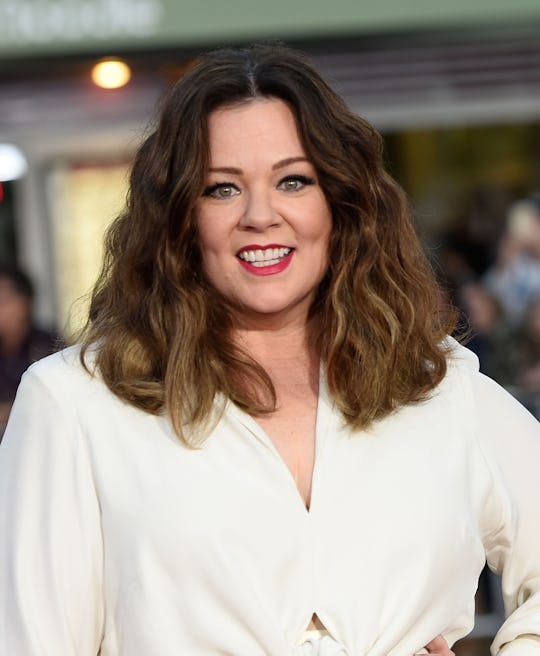 ANGELA WEISS/AFP/Getty Images
Melissa McCarthy's Acceptance Speech At The MTV Movie Awards Was All About Girl Power
Everyone already knows that she's a comedic genius, but Melissa McCarthy's acceptance speech at the MTV Movie Awards for winning the official Comedic Genius honor on Sunday was absolutely perfect. McCarthy is the first woman ever to win the Golden Popcorn for Comedic Genius, and she made sure everyone knew how stoked she was to accept it. She crowd surfed through the crowd to get up on stage and almost knocked out Kevin Hart as the award flew across the stage. She managed to not miss a beat, though, teasing Hart for being co-host Dwayne Johnson's assistant and got down to business.
Although she's the first female to ever win the award, McCarthy was gracious and began listing the names of funny females that have inspired her throughout her career. Lucille Ball, Bette Midler, and Whoopi Goldberg all made the list. She also gave a shout out to her mom, who McCarthy said had taught her to never worry about being the "butt of the joke," or being"likable" and to always go "lovingly" for the kill. Those were obviously lessons McCarthy took to heart. She added during her speech that she's a "walking patchwork" of all of her idols.
Movie Awards executive producer Casey Patterson said in a statement that they were proud to honor The Boss star, "We love Melissa for her performances but she also writes, produces and directs comedy," she told Entertainment Weekly. "The most exciting thing about Melissa is how brave she is."
Not only is McCarthy brave, she is killing it this year. Her newest movie, The Boss opened this weekend to the tune of $23.5 million at the box office, according to The Associated Press. That means a satiric scout leader beat out Batman and Superman.
McCarthy has long been a star, ever since starring in the 2011 comedy Bridesmaids. This could be an even bigger year, though: She's starring in the all-female Ghostbusters this summer along with Kate McKinnon and Kristen Wiig and just announced that she's going to be in one of Netflix's four installments of the Gilmore Girls, reprising her role as Sookie.
The world can always use more McCarthy, and not just because she's crazy funny. She's also very outspoken about spreading her ethos of being herself and generally just not giving a hoot about what anyone thinks of it. (That's especially hard for McCarthy, as the media seems to constantly focus on her body or weight instead). McCarthy even recently told Refinery 29 that it bums her out that her pants size is the first thing people want to talk about with her.)
Maybe now that she's officially a "genius" according to MTV, and raking in the big bucks for a major Hollywood studio, people will start to give her her due credit.