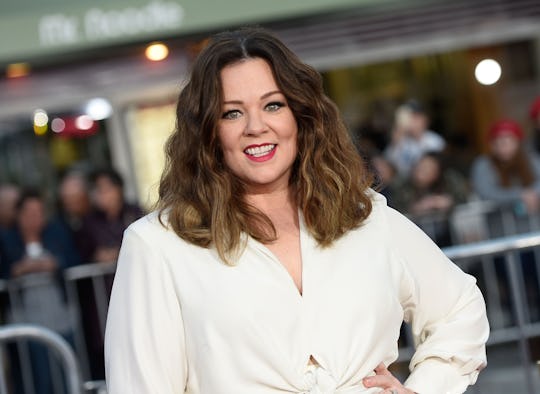 ANGELA WEISS/AFP/Getty Images
Melissa McCarthy's MTV Movie Awards Speech Transcript Was Gracious & Hilarious
Actress and comedian Melissa McCarthy took to the 2016 MTV Movie Awards stage on Sunday night to collect her well-earned Comedic Genius Award. She's the first female to win the award, and only the third person to receive it. After she was announced as the winner, McCarthy crowd-surfed to the stage, then proceeded to accidentally knock her award across it. Once she'd retrieved it, she gave a speech worthy of a comedic genius. In case you missed it, I listened really closely — and the transcript of Melissa McCarthy's MTV Movie Awards speech was truly worthy of its own honor.
The Bridesmaids and Ghostbusters star has watched five of her movies become box-office hits since her breakout role in Bridesmaids, proving that McCarthy (and her no-holds-barred brand of humor) is definitely here to stay. Casey Patterson, executive producer of the MTV Movie Awards, said of McCarthy's win,
We love Melissa for her performances but she also writes, produces and directs comedy, so this award is incredibly well deserved. The most exciting thing about Melissa is how brave she is, you don't want to miss her moment in the show.
To start things off, McCarthy thanked her mother — who reportedly once told McCarthy not to worry about being likable — and past female comedians before her. Check out the full transcript below to read the rest of her amazingly gracious acceptance speech.
Thank you, Mr. Rock Johnson, and thank you to The Rock's assistant, who I don't know what your odds are of keeping the job for that f-up, but we'll see how that goes. […] In all seriousness, I might be the first woman to receive this award, but I am certainly not the first one to deserve it. I think I am a walking human patchwork up all of the remarkable funny, women who I have loved and studied over the years, and I am only here because of Carol Burnett, Jane Curtain, Phyllis Diller, Whoopi Goldberg, Teri Garr, Madeline Kahn, Lucille Ball, Gilda Radner, Julia Louis-Dreyfus, Diane Keaton, Tracey Ullman, Bette Midler, Lily Tomlin, and my mom Sandy Lynn McCarthy taught me not to fear being the butt of the joke and taught me not to worry about being likable or perfect, and to lovingly go for the kill. And I just want to thank MTV to be for this incredible award, it means so much to me. I want to thank every single person that buys a ticket to one of my movies or watches my show, because you are absolutely the single reason I get to keep doing what I love so much. And, in all honesty, I can never thank you enough for that, so thank you. And one more thing — a little P.S. — who knew Bruce Springsteen could get even cooler? How about that.
It was emotional, touching, and paid tribute to many deserving female comedians. It turns out McCarthy's not only a comedic genius — with an award to prove it — she's also fantastic at giving beautiful speeches.