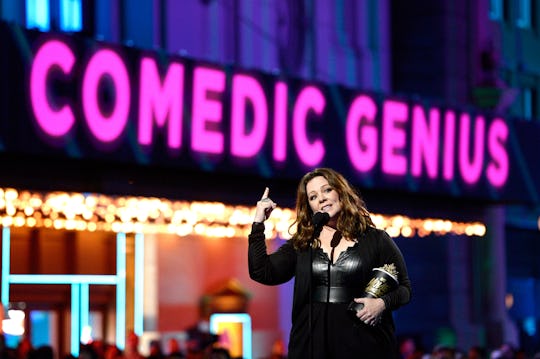 Kevork Djansezian/Getty Images Entertainment/Getty Images
Melissa McCarthy's Shoutout To Bruce Springsteen At The MTV Movie Awards Was Amazing
On Sunday night, actress and fabulous funny lady Melissa McCarthy took home the Comedic Genius Award at the 25th MTV Movie Awards. In a moment of surprise seriousness and clarity for the comedy award, Melissa McCarthy gave a shoutout to Bruce Springsteen — and it was pretty amazing, as the 45-year old actress wrapped up her acceptance speech with a passing comment that we could all understand. "Who knew Bruce Springsteen could be even cooler?" she joked.
The shoutout was a direct reference to Springsteen announcing he was canceling his latest North Carolina tour stop after the state passed HB2 — the wildly discriminatory anti-LGBT "bathroom bill" signed into law by Gov. Pat McCrory. Springsteen was originally scheduled to perform Sunday night in Greensboro, but canceled the stop on Friday.
Springsteen himself called out the move as a sign of solidarity with the LGBT community in a statement on his website. The 66-year old rocker joined another big name that recently announced it was pulling out of the state too: PayPal has scrapped plans for a North Carolina facility, in a company announcement made Tuesday.
Yet, in a move that demonstrated a complete and utter lack of self-awareness and an astounding amount of irony, North Carolina Rep. Mark Walker called Springsteen a "bully" by canceling his tour stop, claiming he is "known to be on the radical left" in a statement to The Hollywood Reporter on Sunday.
Yes, that actually happened: A sitting U.S. Congressman just called one of the current legends of rock and roll a "bully" for canceling his rock concert in a state that just decided to bully every member of its state's LGBT community into using the "correct" bathrooms. But what's even more impressive is an actress as prominent as McCarthy taking a very public stand on the HB2 issue with a seriously invested demographic — and unsurprisingly, her shoutout to Springsteen resonated tremendously well with the millennial crowd.
Of course, haters gonna hate, too: Plenty of viewers watching the MTV Movie Awards at home Sunday night were more than willing to disagree with her online:
It's so nice to see such intelligent discourse, isn't it?
In all seriousness though: It's a pretty super sad state of affairs when the recipient of the MTV Movie Award for Comedic Genius is suddenly more on point with current political bullsh-- than the people in charge of actually writing the damn laws. McCarthy's acceptance speech hit all the right notes by thanking the women in comedy who paved the way for her to "every single person that buys a ticket to one of my movies or watches my show" — and her shoutout to Springsteen was the perfect mic drop cherry on top finish.