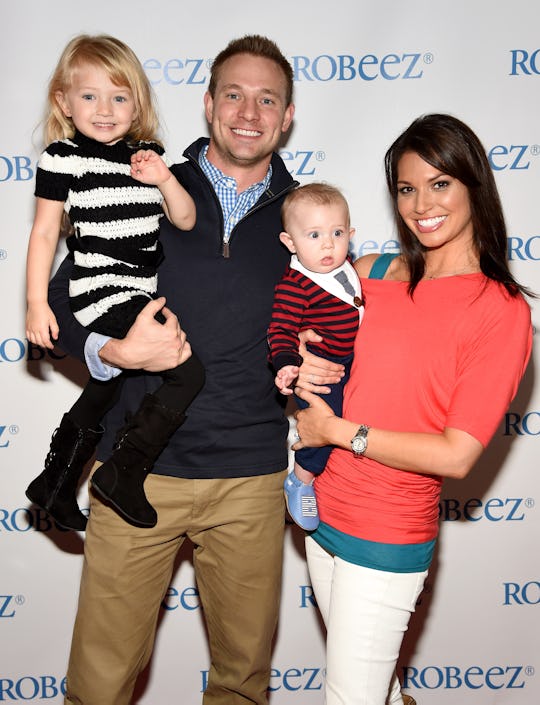 Jamie McCarthy/Getty Images Entertainment/Getty Images
Melissa Rycroft Gives Birth & 'Bachelor' Fans Everywhere Are Ecstatic
Bachelor and Dancing With the Stars addicts alike, rejoice! Former Bachelor contestant Melissa Rycroft gave birth on Wednesday, E! News reported, and fans are rightfully ecstatic. It's Rycroft's third child with husband Tye Strickland, as the little one joins older siblings Ava Grace and Beckett Thomas to round out the now-family of five.
Rycroft first announced that she was pregnant with little Cayson Jack, who was born at a healthy 8 pounds 12 ounces on Wednesday, back in November last year. At the time, the reality star and DWTS champ joked on her Instagram account that Cayson was "definitely the last one...probably." She humorously added the hashtag, "#maybethisonewilllooklikeme," referring to her adorable flaxen-haired tots, who look curiously like husband Stricklands mini-me's.
Despite all the excitement this week, Rycroft was probably about ready for a welcome break from pregnancy and a deserved rest from chasing her kids around the house. "How much longer you think?!?" she wrote in the caption of a recent Instagram photo featuring her growing baby bump and an exhausted facial expression. In an earlier post, she wearily told fans, "Not gonna lie... Tired of being pregnant!", tagging the post #tryingtoenjoytheend #butimready. The sadly hilarious video post featured Rycroft's showing off her displeased face, much to the delight of fellow moms everywhere. "That last month is the worst but that little one is so worth it," one Instgram user commented sympathetically.
Still, despite the pregnancy exhaustion and added stress of being a busy mom of two and career woman, Rycroft easily finds solace in the everyday occurrences at home with her family, telling Us Weekly in an earlier interview last year,
[My kids are] starting to form a relationship, it's cute. They'll go into the playroom and I'll just hear Ava talking to him and they're kind of in their own little make-believe world, it's fun.
Rycroft is perhaps most famous for her turn as The Bachelor Season 13's final rose recipient (Bachelor Jason Mesnick later coldly dumped Rycroft in a terrible, on-air break-up during the show's After the Rose special that same year — ouch), but she managed to find love once again in former boyfriend, Texas salesman Strickland, with whom she had previously shared an on-again, off-again relationship. The two married in 2009, and have been riding the wave of marital and family bliss ever since.
Of course, Rycroft didn't stop there. Ever-ambitious, the mom of three has gone on to win DWTS, publish a book (aptly named My Reality), and even serve as host on several reality shows, including ABC's Bachelor Pad, since her stint on The Bachelor. Talk about multi-talented.
Given how well Rycroft has managed to juggle all the exciting things buzzing around in her life, it's highly likely that she and husband Strickland are more than ready to take on this third round of parenthood.
More to come...