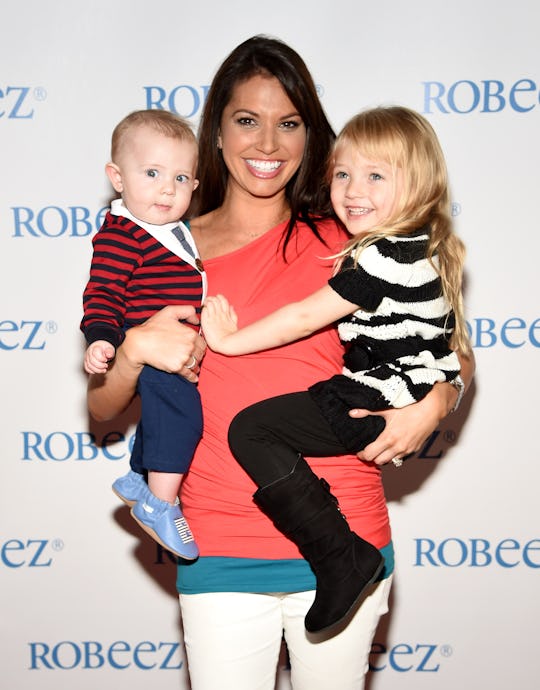 Jamie McCarthy/Getty Images Entertainment/Getty Images
Melissa Rycroft's First Day Of School Tweet Will Warm Your Heart
Melissa Rycroft has played many roles in the public eye, from Dallas Cowboys cheerleader to lovelorn bachelorette to Dancing With The Stars champion. But she seems the most thrilled about her role as a mother of three, with the glowing social media accounts to prove it. Rycroft's first day of school tweet to celebrate her eldest heading off to kindergarten, in particular, was freaking adorable. Plus it quoted Dr. Seuss, so it's gotta be good.
On Monday morning, Rycroft posted a picture of her and her husband, Tye Strickland, along with their three children, Ava Grace, Beckett Thomas, and new addition Cayson Jack. Ava, outfitted with a big white hair bow and a pink backpack, was about to go to her first day of kindergarten, and the whole family was there to celebrate it. And what would a send-off be without some wisdom from the creator of Horton the Elephant and the Cat in the Hat?
Underneath the delightful picture, Rycroft quoted Oh, The Places You'll Go, Seuss's classic paean to moving forward in life (and a bestselling graduation gift), writing, "You're off to Great Places! Today is your day! Your mountain is waiting, so... get on your way!" With her big smile, Ava certainly seemed excited and ready to experience the joys of sharing and shoe-tying.
And not to worry, it seems that Ava's first day went swimmingly. Rycroft posted another photo a few hours later of her daughter post school day, happily eating lunch at the restaurant she requested. (Ava picked McDonald's, the classic choice for children who have yet to learn that hamburgers are capable of tasting so much better.)
It's been a big year for Rycroft and her family, what with Ava entering kindergarten and Cayson's birth back in May. In an interview with People, Rycroft spoke about the joys and challenges of raising three kids, particularly in the mornings, saying,
It's constant chaos! I'm fighting with Ava to get dressed, Beckett insists on making his own breakfast and is spilling cereal all over the floor and Cayson needs to be fed. There are times it feels like there are 18 children in my house!
But Rycroft and Strickland have been making sure to spend time with each child individually, and to make each one feel valued in his or her own right. And since Rycroft describes Ava as "an attention hog," the big kindergarten send-off was probably much-appreciated. (As for Rycroft, she probably appreciated having at least a few hours to focus on two children, instead of the chaos of three.)
Congratulations to the whole adorable family on Ava's big day!