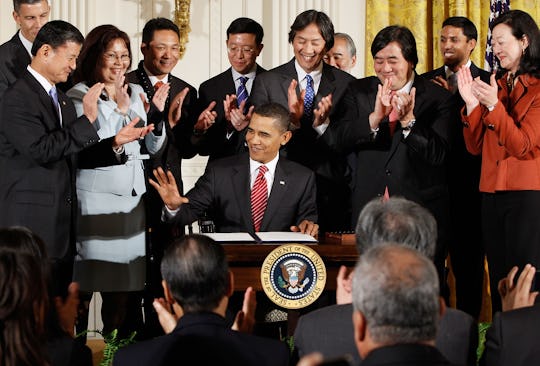 Chip Somodevilla/Getty Images News/Getty Images
Why White House AAPI Commission Members Resigned
A group marginalized by President Donald Trump's policies has decided to abandon ship completely. Presidents Bill Clinton, George W. Bush, and Barack Obama all welcomed these much-needed voices in their respective commissions, making the fact that 10 members of the White House's Commission on Asian American & Pacific Islanders (AAPIs) resigned together that much more shocking. Romper has reached out to The White House for comment but has yet to hear back.
The Washington Post notes that six members of the 20-member commission had already resigned, having done so right when Trump took office. Now, a mere four members remain. In the statement letter sent out by the 10 on Wednesday, writers explained why they had come to their wits end, saying: "[W]e can no longer serve a president whose policies aim to create outcomes that are diametrically opposite to our principles, goals, and charge."
The policies that these AAPIs oppose, as outlined in the letter, are vast. Citing Trump's Executive Orders as methods of exclusion, the letter writers show how, specifically, these policies affect AAPIs in particular. From cutting federal funding to sanctuary cities; to banning refugees from predominantly Muslim nations; to building a border wall between the United States and Mexico; and to repealing the Affordable Care Act, the letter stands not only in opposition of harmful actions to people within a specific demographic, but also in solidarity with other minorities who are likely to suffer — or have already suffered — under such measures.
In addition to highlighting the flaws in Trump's policies, there were some less concrete but equally important call-outs made. "We object to your portrayal of immigrants, refugees, people of color and people of various faiths as untrustworthy, threatening and a drain on our nation," the letter read, noting that language, and not just dangerous policies, can generate harmful and unsafe environments.
The now-resigned members had written a letter to Trump earlier, in January, saying that they were willing to work with him on their expected goals and needs. They asked that the Trump administration work actively, "protecting civil rights and civil liberties for everyone," while "promoting broader dialogue" and "keeping the federal government accessible to all people living in the United States — regardless of their status as citizens, immigrants or refugees." Though they were once willing to work with the president, his apparent avoidance of even addressing issues of value to AAPIs made this impossible.
This avoidance, combined with Trump's slew of apparently anti-AAPI policy measures, meant that commission members had no other way to be heard than to exit completely. Whatever happens next, the ball is in Trump's court.