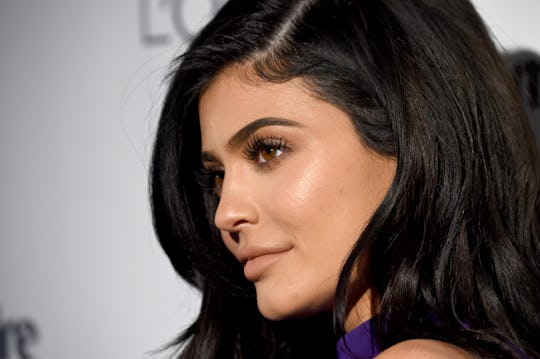 Frazer Harrison/Getty Images Entertainment/Getty Images
Memes About Kylie Jenner's Stormi Photos Show Fans *Live* For Them
Kylie Jenner had teased her fans about her pregnancy for so long that now that she's got a real-life, in-the-flesh baby to show off, they can't get enough photos and videos from her. In fact, they're are so obsessed with Kylie's adorable baby that there are memes about Stormi photos to prove it. And these clever memes are taking over Twitter.
The makeup mogul and her boyfriend Travis Scott officially welcomed their first child, Stormi Webster, on Feb. 1. And, once Stormi was born, Kylie shared an 11-minute video of those special nine months. The video showed everything from early ultrasound appointments to sharing their excitement about their new addition with the Kardashian-Jenner family and Travis's families alike. Those were only the first glimpses into Stormi's life — fans have since caught glimpses in more Snapchat videos and some few-and-far-between Instagram photos.
Kylie shared the first photo of her daughter on Instagram when she confirmed that the baby would be taking Travis's real last name, according to People. The photo was captioned, "stormi webster 👼🏽.." Kylie's birth announcement became the most-liked Instagram photo of all time in less than a week, according to E!. Fans were hungry for information and confirmation. After all, Kylie had kept her pregnancy a "secret" for the better part of nine months.
And, as viral photos often do, the Instagram post quickly became a meme. (In fact, every fact Kylie shares about her new baby has inadvertently become a meme at some point.) Someone edited the photo so Stormi has lip gloss color swatches painted on her arm with the caption, "That was fast..."
P.S.: Even Ellen DeGeneres got on board with the Stormi memes.
There have been some posed shots and selfies galore since that first photo reveal. There are already 72 posts on a Stormi official Instagram account, one in which Kylie leans down to kiss her daughter while repeating, "I love you" over and over again.
Twitter users, who seem to have quite a lot to comment on about Stormi and her mom, are eating it all up. The jokes and memes just keep on coming....
Stormi's photos go viral almost immediately after Kylie shares them on her Instagram, Snapchat or Twitter. But she hasn't been on her mother's social media (except for the stroller shot, in which she can't be seen), in quite some time, according to ELLE. So it's no surprise that when Jenner finally shared three videos on Snapchat (with different filters) of Stormi laughing, fans ate it up.
The videos are indisputably adorable, and those who keep up with the Kardashian and Jenners clearly want more given the many memes that are popping up left and right.
Travis and Kylie have welcomed what many Twitter users are calling the cutest baby ever.
And perhaps the most meme-able one, too.
Editor's note: After publication, we discovered this article did not meet our editorial standards. There were portions that did not correctly attribute another source. It has been updated to meet our standards.
Check out Romper's new video series, Bearing The Motherload, where disagreeing parents from different sides of an issue sit down with a mediator and talk about how to support (and not judge) each other's parenting perspectives. New episodes air Mondays on Facebook.