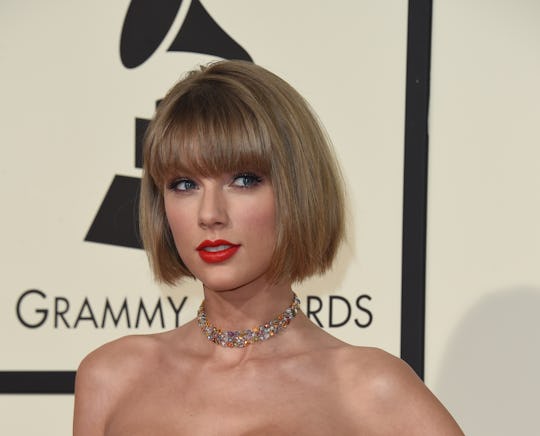 VALERIE MACON/AFP/Getty Images
Memes About T-Swift's "Look What You Made Me Do" Are Emotional & Dark
On Thursday night, at a time way too late for most of us who actually wake up early for work, Taylor Swift (the new dark version of her, not the version we all know and love) released "Look What You Made Me Do," the new single from her upcoming album, Reputation. And with the single came the internet's swift response — in meme form, of course. Memes about "Look What You Made Me Do" show that people had a lot of feelings about it: love, shock, rage, confusion. People were all over the place about it, probably because it's too freaking late on a weeknight for most to process it in a sensical way.
OK, but really, Taylor, it is midnight on a weeknight. Yes, tomorrow is Friday, and it's earlier in Los Angeles, but what is this nonsense. Most of Twitter agrees with my sentiment; a lot of Swift fans and non-fans but those who came for the shade reportedly being thrown on "Look What You Made Me Do" pointed out how the "old Taylor" never would have 1) released a song this late, or, 2) released a song this dark. The new Swift is not f*cking around, clearly.
At one point, she actually sort of sings into a phone, in a light, sing song-y voice, "The old Taylor can't come to the phone right now. Why?/ 'Cause she's dead." Um. *Insert Flushed Emoji* You can listen to the single on Spotify, Apple Music, or YouTube now.
Then there were the people who put it all together and understood T-Sneaky's (my new name for her after now that she's evil) new branding strategy.
The below GIF is not one I thought I would ever lay my innocent, sweet eyes on, yet here we are in this post-Dark Taylor Swift World.
Some fans not only love the darkness of "Look What You Made Me Do," they think it even rivals songs like "Despacito," by Luis Fonsi and featuring Daddy Yankee.
The feelings were intense and aggressive.
Also, Evil Taylor 2.0 wasn't joking with those weird snake GIFs. She is actually selling strange snake merchandise on her website. OK, is that really dark/evil? Or is she now just coming off like a blinged-out drug overlord? Hmm.
But, of course, not everyone was please. There were critics out there who were less impressed with Count Swift-ula (I tried).
Personally, I thought the below comparison to 13 Going On 30 was the best thing on the internet. You can almost hear Taylor being like, "It'll be snake chic. Music suicide." *Plays dramatic piano music*
A number of people also pointed out that the track — which reportedly makes a number of digs and references at artist Kanye West, whom Swift has had an ongoing feud-friendship back-and-forth with — is another example of Swift being dramatic or playing the victim card. According to Rolling Stone, at least one of the references to West is where Swift says "I don't like your little games/ I don't like your tilted stage. The role you made me play: of the fool/ No, I don't like you." It could reportedly be a reference to a well-known tilted stage that West used during his Saint Pablo tour. Oh, the drama.
And, please take this with a grain of salt, but a "source" reportedly told Metro that Kim Kardashian was feeling scared about what Swift could say about the couple on Reputation. I mean, I feel like there's a lot more in the world to be afraid of right now (cue any headline about President Donald Trump), but this new Taylor does seem particularly e-ville.
OK, it's here. We have it. We are feeling things. Some of us are down and some of us are not. T-Swift has become T-Snake. Can I go to bed now? Wonderful.