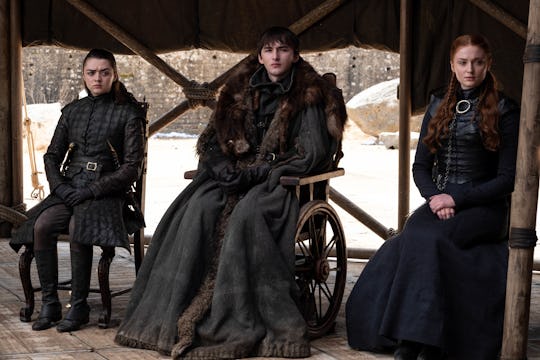 Macall B. Polay/HBO
Yes, There Was A Plastic Water Bottle In The 'Game Of Thrones' Finale
You may recall, earlier in Game of Thrones Season 8, a hilarious gaffe that was soon spun into meme gold: the craft services coffee cup. Spotting a modern paper cup in the Episode 4 banquet was so hilariously incongruous that it reached legend status; viewers will be talking about it for years to come. And now the coffee cup has a friend. That's right: they did it again. There was another slip-up in the finale, and these memes about the plastic water bottle in Game of Thrones have a lot to say about it.
The plastic bottle is, if anything, even more out of place than the coffee cup — and harder to spot. You had to really be looking to see it, but once you know where to look, you'll never see anything else. It was in the scene were all the lords and ladies gathered to pick their new king in a watered-down attempt at democracy that didn't actually take the common people's opinions into account at all. Would they have voted for King Bran? Doesn't matter! They are at the whim of the ruling class.
Much like the coffee cup, the plastic bottle soon came to represent something more than a minor mistake. Viewers had already been complaining that the final season felt careless because it seemed to discard all the character work and plot developments that came before it. Having not one, but two beverages left behind onscreen seemed to exemplify that carelessness.